Don't miss a thing with a
myQ
Video Storage

Plan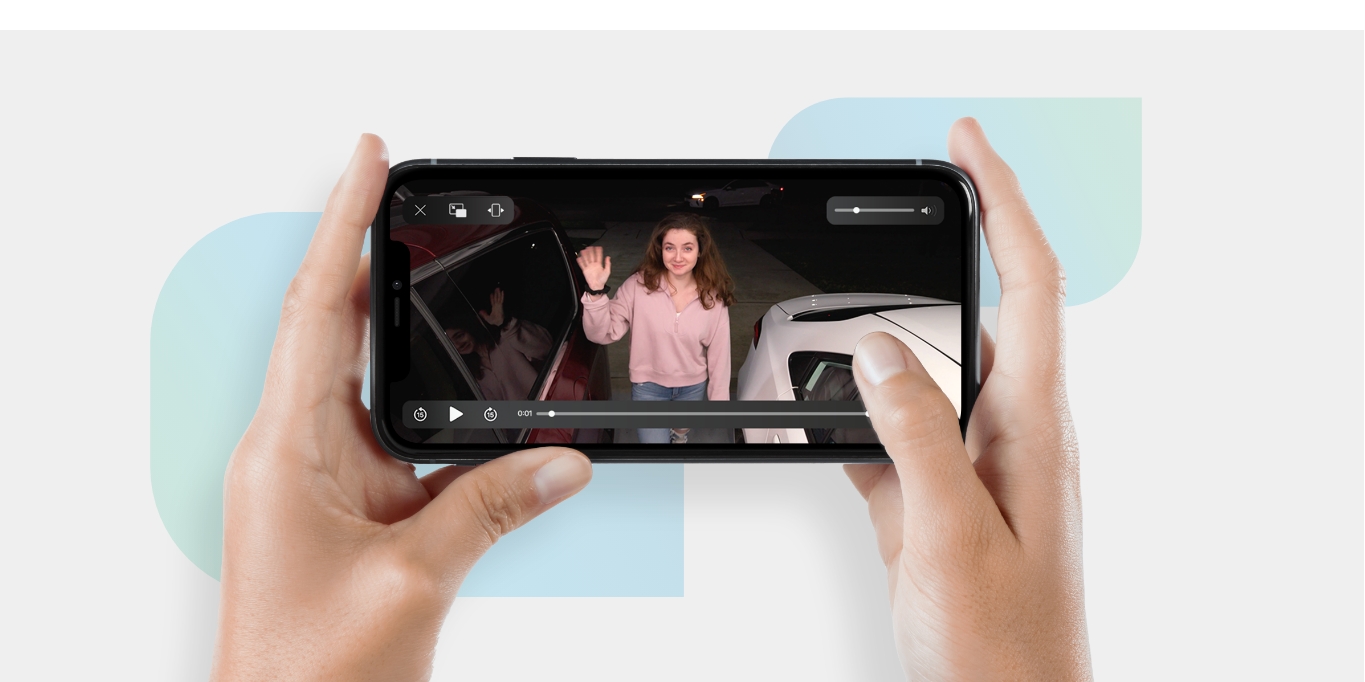 See the whole picture
For when you want to see what is happening in and around your garage, myQ Video Storage allows you to record and view videos for up to 30-days. Whether you're securing your garage, checking on the people who matter most or capturing a fleeting moment – a Video Storage plan lets you see the whole picture.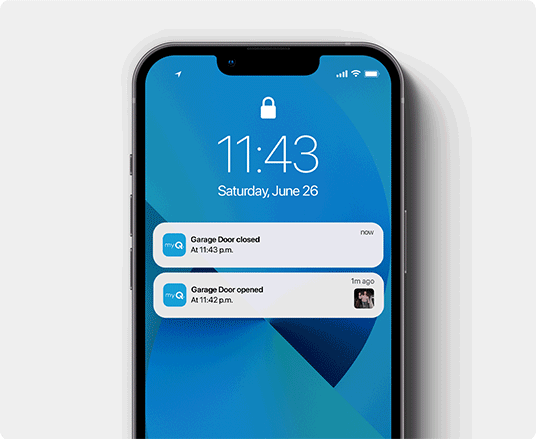 Preview Notifications
Preview notifications will send you a thumbnail alert when an event is recorded in the garage. Press and hold the notification to expand and see what happened and when.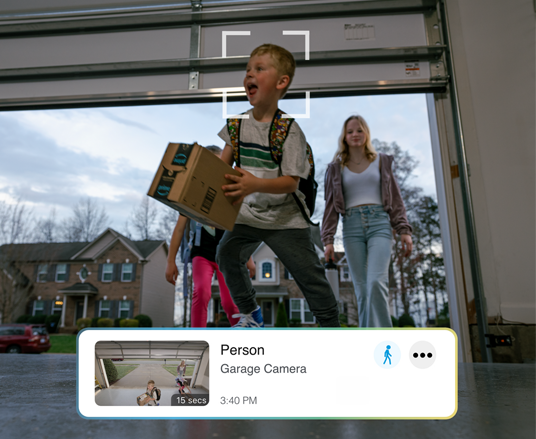 People Detection
People detection lets you know for sure if it was your kids coming home from school or delivery dropping off a package – know who is entering and exiting your garage.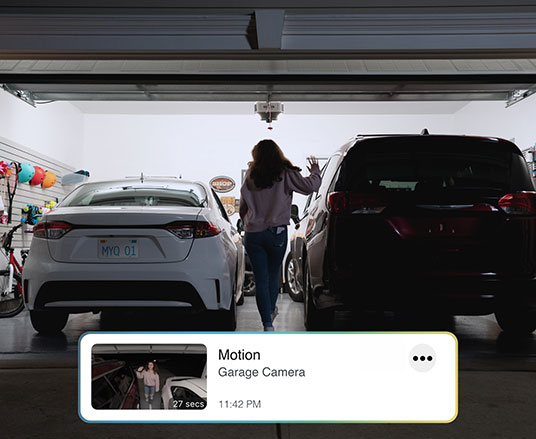 Motion Detection
The myQ app will alert you when something is moving in your garage. Is it the garage door opening or closing? Or the kids coming home? Know with certainty with a Video Storage Plan.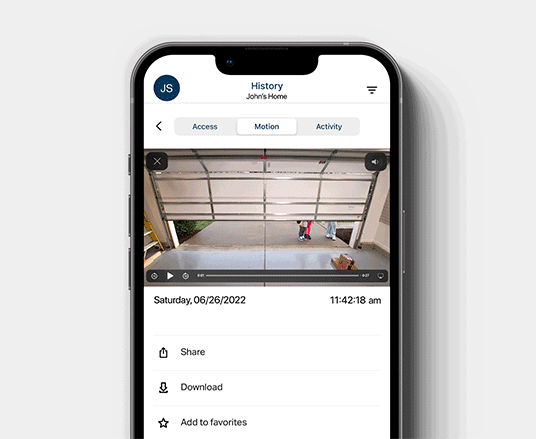 Record, Save and Share
Video is captured in 1080p full HD video when motion or a person is detected. Download and share video clips straight from your myQ app. Tag important recordings to save and store on the encrypted cloud.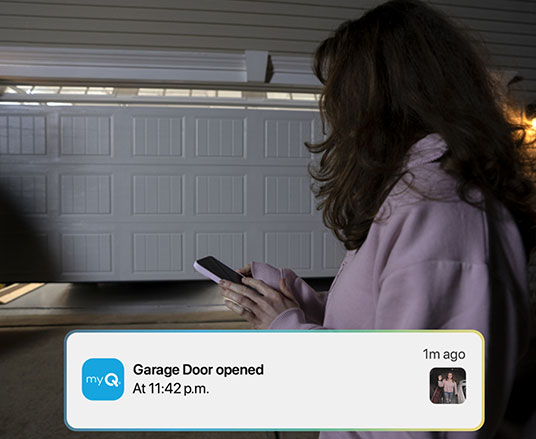 Customize Settings
Customize your Video Storage alerts in the myQ app. You can receive alerts for motion, delivery and access – or choose to turn them off.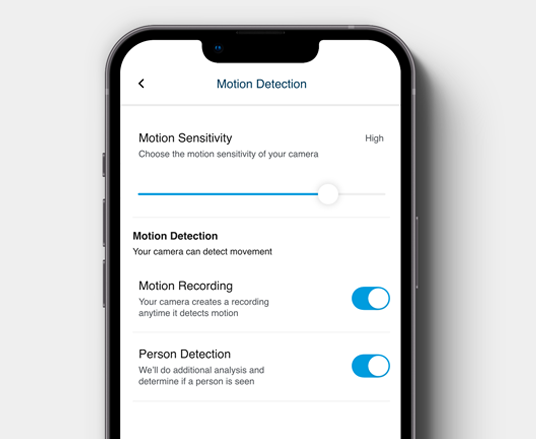 Motion Sensitivity
Adjust motion sensitivity to customize the level of movement your camera detects.
Real talk with real myQ customers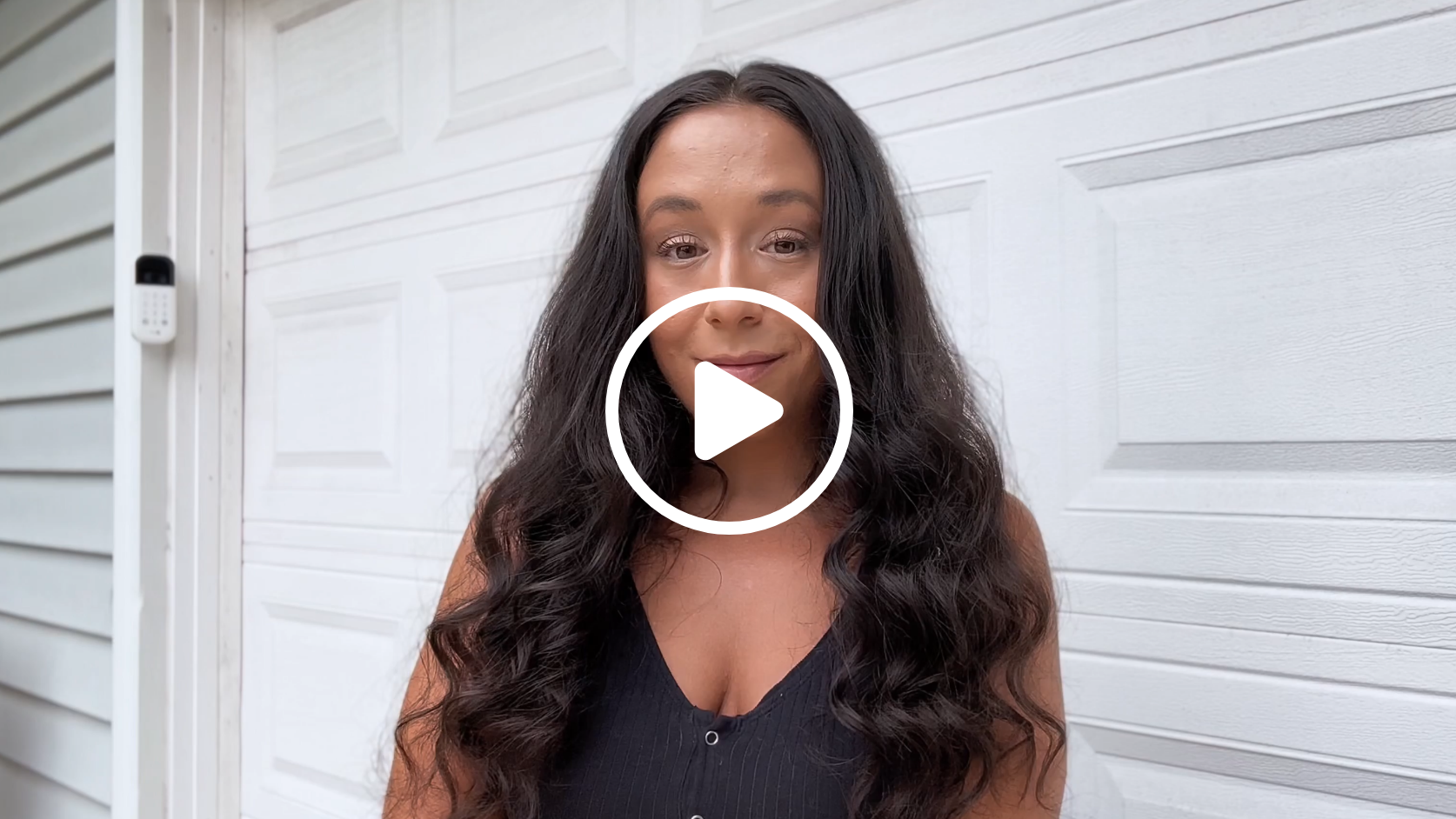 Sofia
Indiana
"It's like having a trusted security companion by my side..."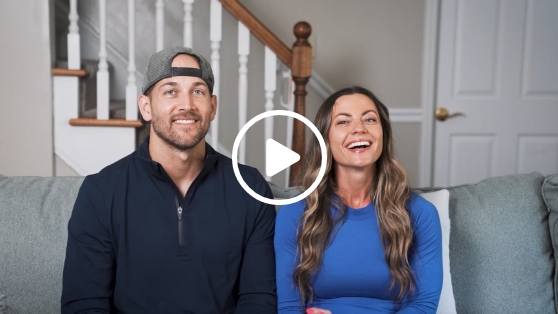 Scott + Collette
New Jersey
"We totally feel confident in the safety of our home and our family thanks to our myQ camera and video subscription."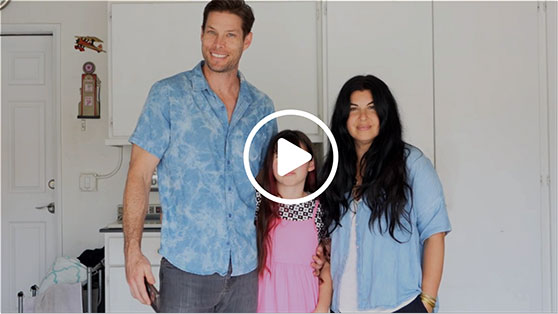 Chadd + Family
California
"What I love about the myQ video storage plan is I get to make sure my grandma checks on my cat while we're out of town."
The consumers who provided the testimonials were compensated. For more details, please see more for full disclaimer.
Compare Plans
Compare and select the plan that works for you.
30-Day
7-Day
Basic
No Plan
$99.99 / Year


(save $19.89)


$9.99 / Month
$39.99 / Year


(save $7.89)


$3.99 / Month
$19.99 / Year




Devices


Multiple

One

One Secure View
Garage Door Opener

Event History


30 Days

7 Days

7 Days
Smart Detection
Recordings

Motion
Person

Motion
Person
Preview
Notifications

Press & Hold

Press & Hold
Event
Recordings

Open/Close

Open/Close

Open/Close
Event
Notifications

Motion
Person
Open/Close

Motion
Person
Open/Close

Motion
Open/Close

Motion
Open/Close
Download,
Favorite & Share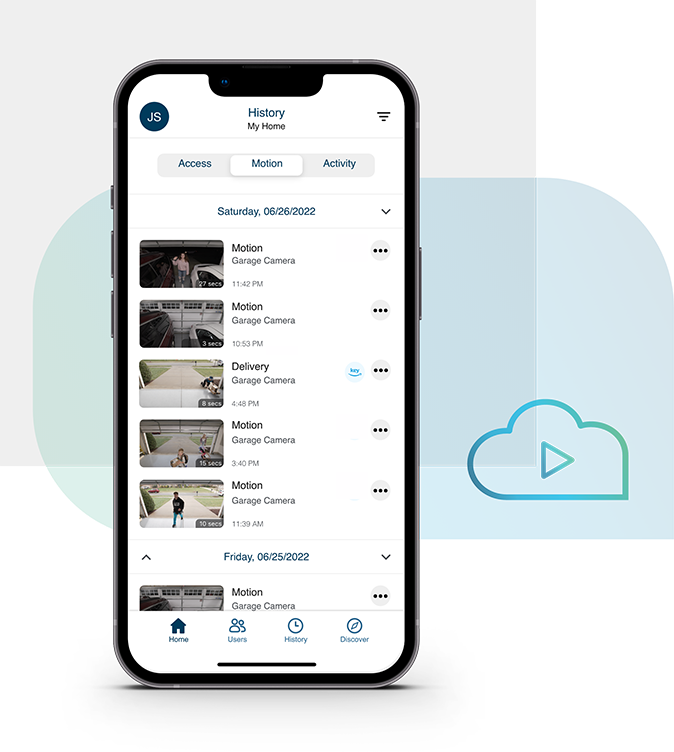 Enjoy myQ Video Storage free for 30 days
As soon as you set up your camera enabled device, your free 30-day trial of a 7-day Video Storage Plan will begin. Take advantage of all the features video storage has to offer—customized settings, motion detection, rich notifications and video playback. Record, save and share your videos with friends and family.
myQ Video enabled products
Choose a myQ Smart Garage Camera or camera enabled smart garage door opener to enable your Video Storage plan.
myQ Cloud Subscription FAQs
Do I have to sign up for a storage plan?

You do not have to sign up for a storage plan to stream live video. However, a subscription is required to automatically record and save video. A subscription is also required for our premium features such as People Detection and Facial Recognition.
Is there a free trial?

Yes. Try a 7-day video storage subscription for 30 days. Your trial begins as soon as you connect your myQ, Chamberlain, or LiftMaster video enabled device.
How many cameras are supported through a plan?

You can add multiple camera devices per household when purchasing the 30-Day video storage plan. All other plans are on a per camera basis.
Are my videos still being recorded even if I do not subscribe?

No video is recorded without a myQ Video Storage Plan.
How are videos stored?

Live video feeds are not stored. Recorded video events are stored in our encrypted cloud network.
If I don't sign up for a myQ Video Storage Plan will I still get alerts?

You will still get access and motion alerts without a storage plan, but will have to immediately open the app and start a live stream to see what's happening
How do I cancel my Video Storage Plan?

Change or cancel your plan at any time, by logging into www.myqservices.com using your myQ account.
What devices are eligible for the myQ Basic Video Storage Plan?

Any Chamberlain or LiftMaster Secure View Garage Door Opener with an integrated camera is eligible for the myQ Basic Video Storage Plan.