Automotive Service Station: Improve Security and Management Capabilities
myQ® Smart Facility Access combines premier LiftMaster® hardware with myQ Facility software to help you improve efficiency, accountability and security at your dealership or service station. Now you can see—from anywhere—which service doors are open and know who opened them.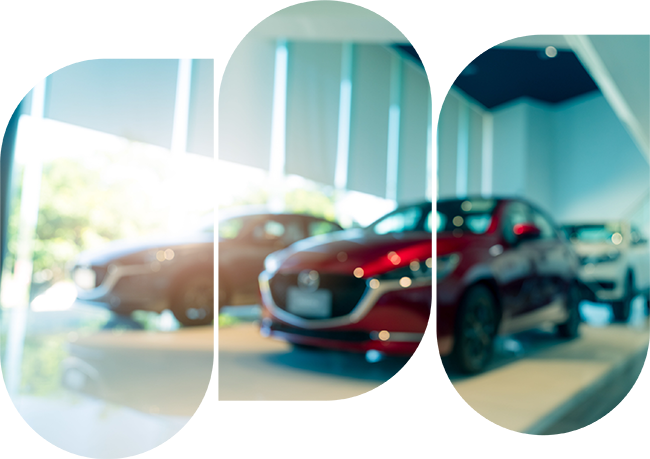 Have questions about optimizing your dealership or service station?   
Contact Us
Have questions about optimizing your dealership or service station?
Contact Us
Manage Every Detail
Watch every door
Using the myQ Facility software platform, you can see the status of each service door in your dealership—and you can control every door from anywhere.
Improve accountability
Receive an event log of all activity that occurs at every service door. You'll know what time each door closed or opened—and which credentialed employee was responsible for each action.
Don't overuse one door
Find out if you are relying too much or too little on a particular door. Knowing the daily cycle count allows you to extend the life of the operator and optimize your operational efficiency.
Know before it breaks
Get a warning when your equipment is due for preventative maintenance. myQ Facility can send diagnostic notifications to your maintenance personnel or door dealer.
Modernize Your Automotive Service Doors with Premier Hardware
LiftMaster's best-in-class service door operators are powerful, long-lasting and dependable. Plus, the LC36M Monitored Light Curtain provides an invisible 3-foot wall of protection for the entryway. Consisting of 22 monitored infrared cross-beams that span across the plane of the door, the invisible screen of protection immediately senses any obstructions in the way of the door, stops it from closing and reverses to its fully open position; helping to minimize injury, costly repairs and unexpected downtime.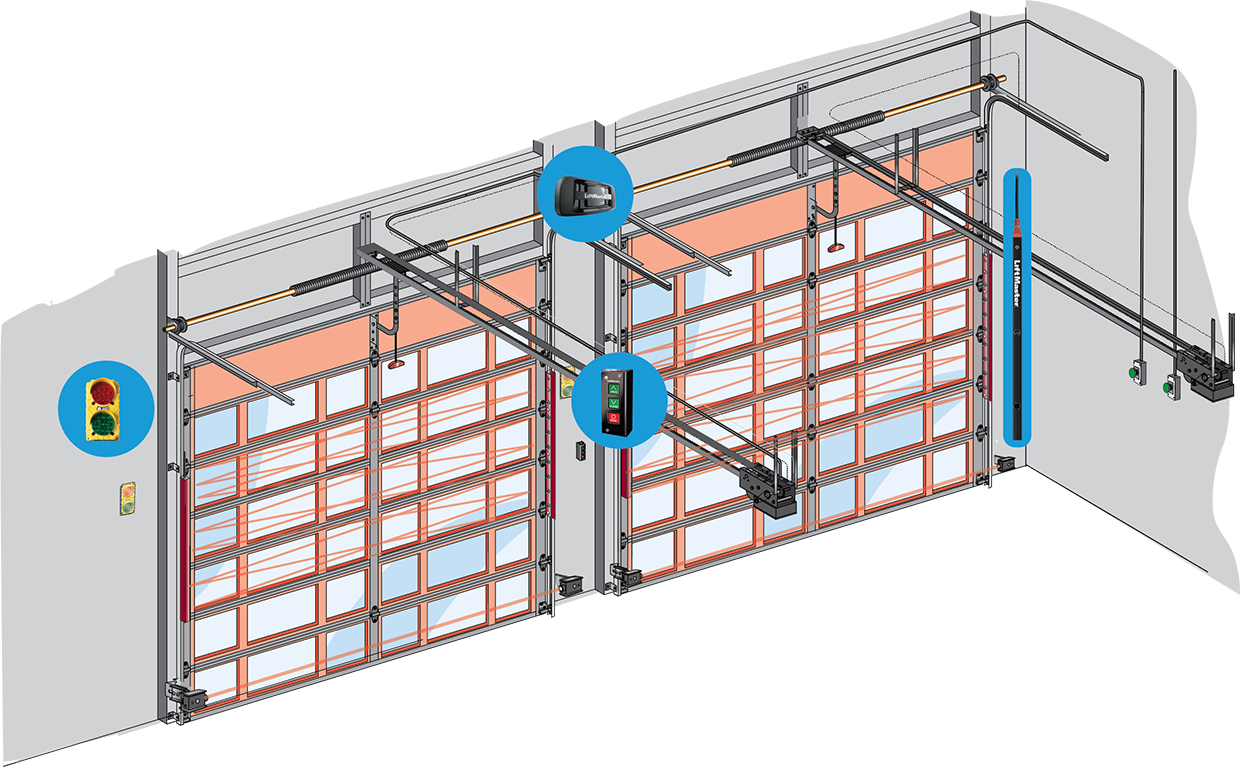 Share Access Privileges with Employees
Instead of handing out 20 remote controls to different employees, simply share credentialed access to your dealership via myQ Facility. This way you will know exactly who is opening a service door at any given time. For example, if your door opens at 11 p.m. because an employee forgot an item at the service center, you will have a record of it and can rest easy that there isn't a security breach.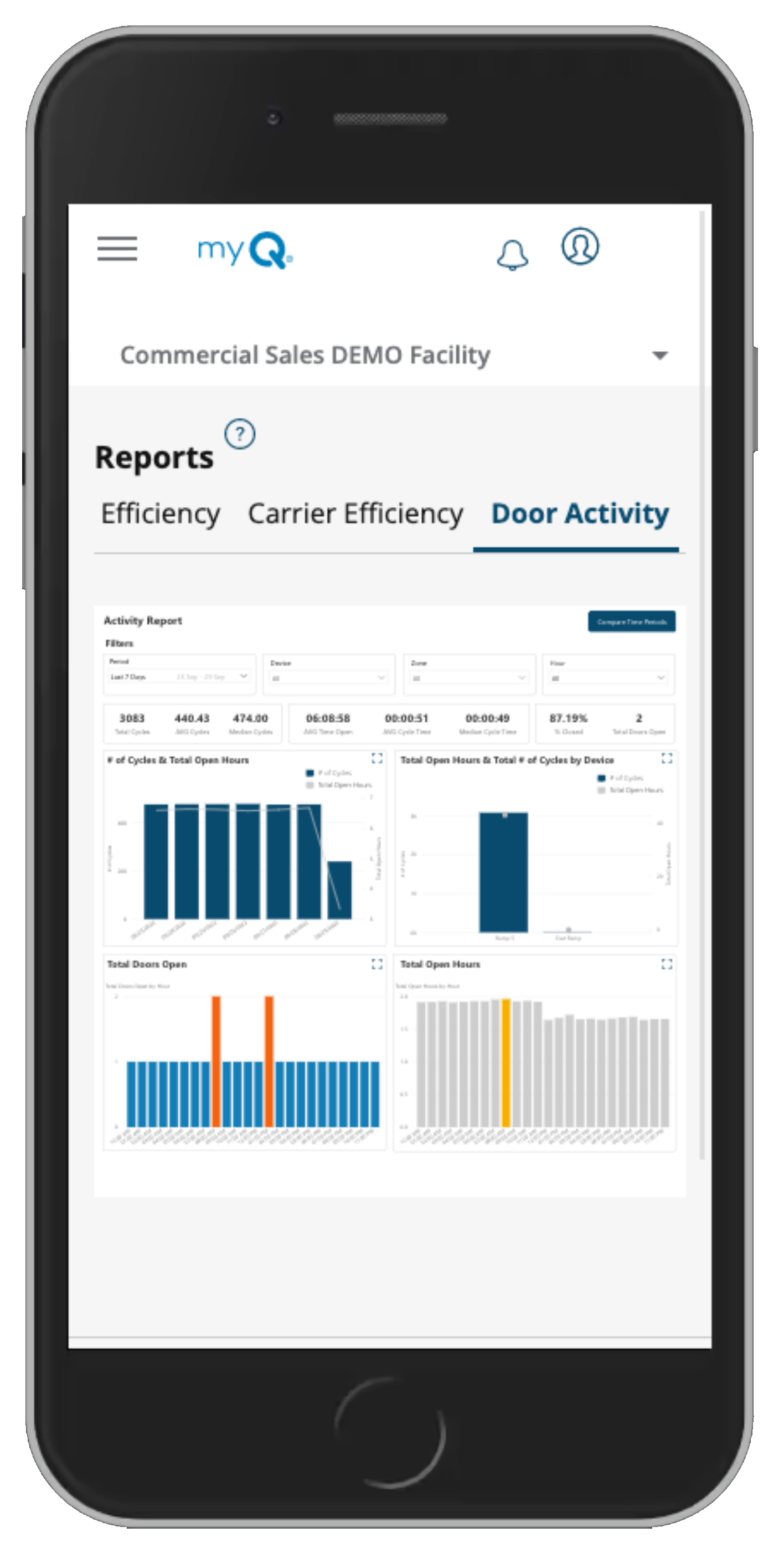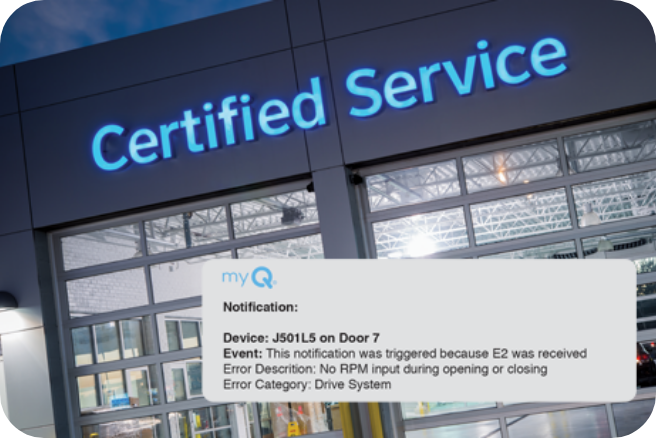 Stay Up to Speed with Diagnostic Services
Receive alerts whenever there is an issue with your hardware. myQ Facility offers diagnostic services to help you identify the issues so you can promptly perform necessary maintenance on your operator—and keep your service center running smoothly and efficiently.
Reliable Hardware from a Trusted Brand
Have questions about optimizing your dealership or service station?   

Contact Sales

Have questions about optimizing your dealership or service station?

Contact Sales

s