Facility Gate Operators
Manage traffic flow and modernize your property with an extra layer of security to your facility's entrance. Having a gate at your facility offers the peace of mind your company needs, and gate operators from LiftMaster® offer the power and efficiency you desire.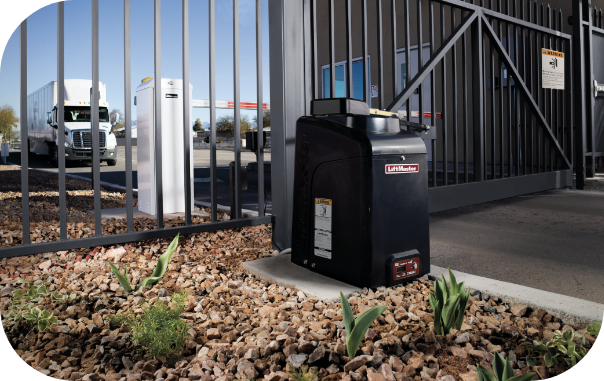 Powerful. Connected. Secure.
How Heavy? Industrial-strength Heavy.
Our gate operators provide tons of strength—literally. With Industrial Gate Slide Operators that move gates up to 5,500 pounds, your operator will be able to handle any challenge you push its way.
Connected and Convenient
When your gate operator is connected to the myQ Facility software, you'll receive insights you need for tracking and auditing so you can make smarter, data-driven decisions.
Safe and Secure
LiftMaster's gate operators are best-in-class products from a brand synonymous with quality. WE comply with the industry's highest safety requirements, including the UL 325 standard, and help keep your building safe and secure.
Durable and Dependable
A LiftMaster gate operator is designed to stand the test of time. Running for up to millions of cycles, you can feel peace of mind that you won't have to worry about replacing your operator anytime soon. It just works.
The Optimal Operator for You
Commercial Door Operators