Smart Garage® Video Keypad


Out with the old & in with a VIEW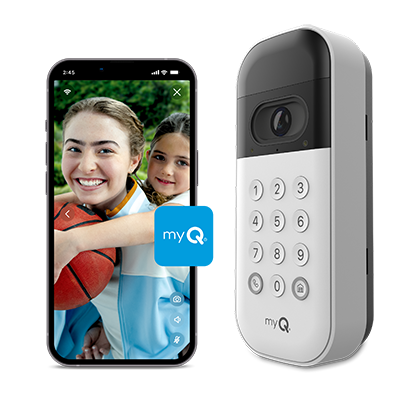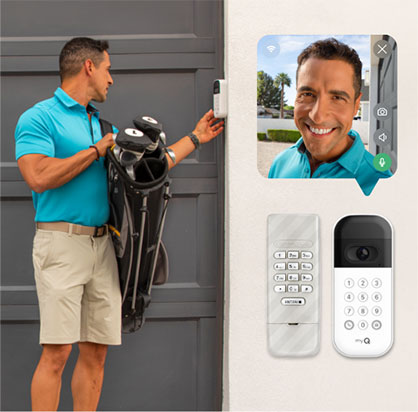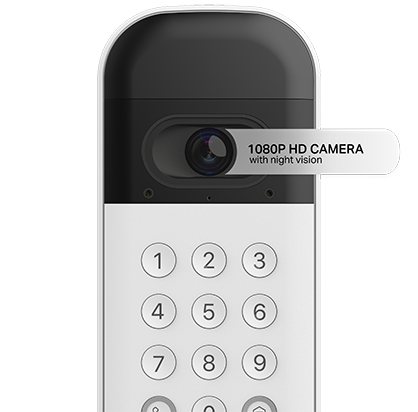 Smart Garage® Video Keypad


Out with the old & in with a VIEW
Features
Personalized Access
Create unique PIN codes for family, friends, and service providers
Visual Confirmation
Get peace of mind by seeing your loved ones have arrived home safe and sound
Meaningful Alerts
Receive real-time notifications when your garage has been accessed with a PIN code
Easy Installation
Wireless DIY setup with integrated Bluetooth® for fast Wi-Fi® connectivity
Win a myQ Back-to-School Survival Kit! Giveaway
entry details
below.
Smart Garage Video Keypad only
$89.99!
Use code:
VKP89
Limit 2 per Order.
Added to Your Shopping Cart
The Item Was Not Added to Your Shopping Cart
Features
Personalized Access
Create unique PIN codes for family, friends, and service providers
Visual Confirmation
Get peace of mind by seeing your loved ones have arrived home safe and sound
Meaningful Alerts
Receive real-time notifications when your garage has been accessed with a PIN code
Easy Installation
Wireless DIY setup with integrated Bluetooth® for fast Wi-Fi® connectivity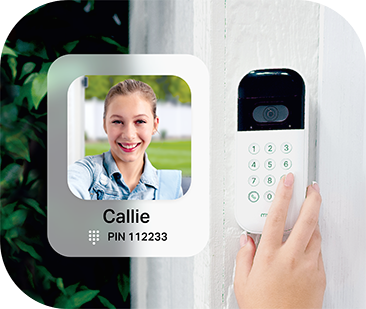 Personalized Access
Make it easy to get in without keys or remotes by creating unique PIN codes.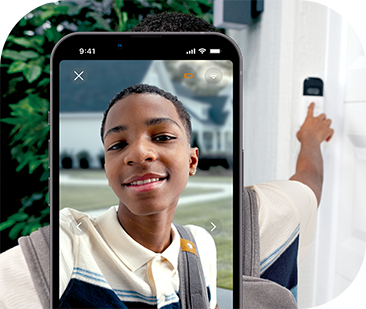 Visual Confirmation
Seeing is believing! Watch live to see who entered and when.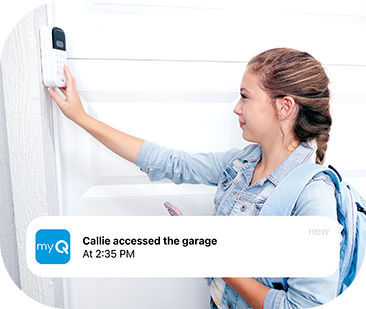 Meaningful Notifications
Get a real-time alert when your PIN codes are used.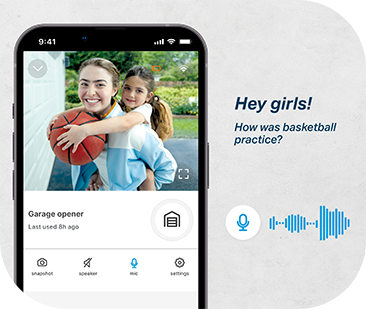 2-Way Audio
Speak to your guests via the myQ app or initiate a call from your keypad.
Premium

Features

Connect the keypad to myQ and enjoy a free 30-Day trial of myQ Video Storage.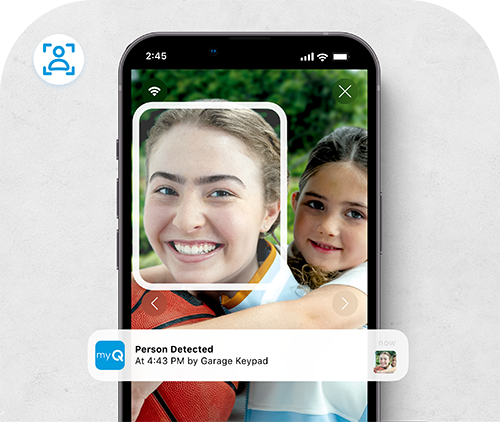 Person Detection
Get notified when a person has been seen near your garage.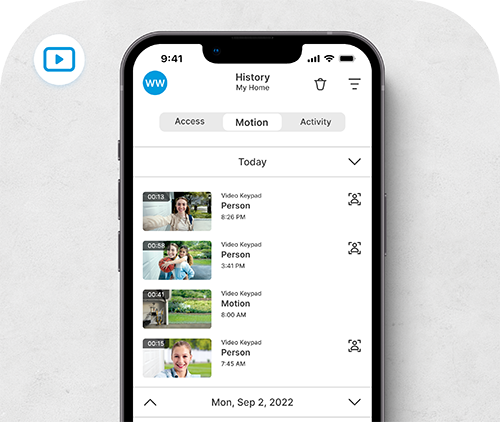 Video Storage
Access recorded events for up to 30-days.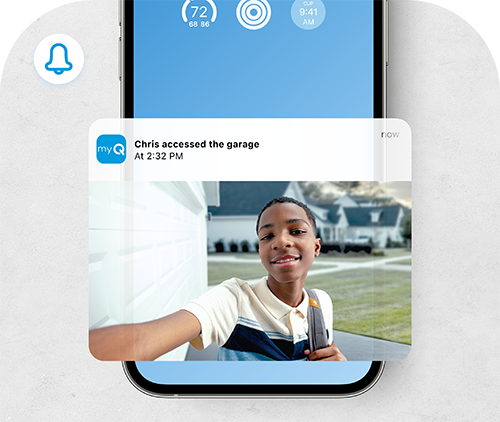 Rich Notifications
Get a preview with your notifications so you can quickly understand what happened and when.
Customizable Settings
Fine-tune your camera's sensitivity to motion, then select the frequency and type of notifications you wish to receive.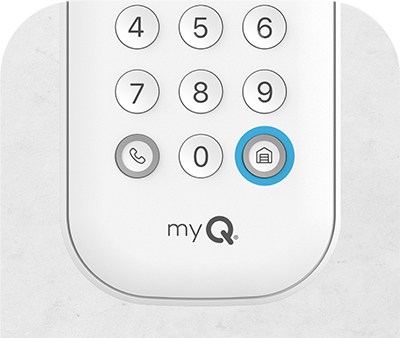 One-Touch Close
Press the "HOME" button to close your garage door without using a remote or your smartphone.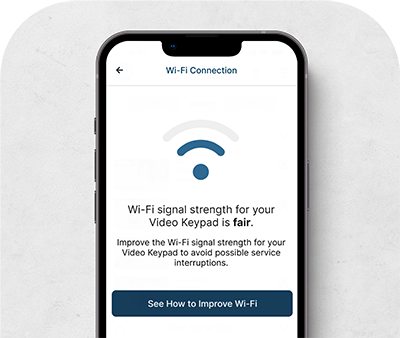 Connect to Wi-Fi®
The video keypad should be within 50-feet of your Wi-Fi® router. If the signal is weak, try moving the router closer to the garage or using a Wi-Fi extender. Good Wi-Fi will extend your battery life.
Brand Compatibility
Compatible with LiftMaster®, Chamberlain®, Craftsman®, Raynor®, and AccessMaster® garage door openers installed after 1993 that use photoelectric sensors
GDO Learn Button Compatibility
Yellow, Purple, Orange/Red, Green
Code Type Compatibility
Security+ 2.0®, Security+ 315MHz, Security+ 390MHz, Billion code 390MHz
Connectivity
802.11 a/b/g/n (2.4GHz/5GHz) Wi-Fi
Camera
1080P HD Video with Night Vision
Field of View
160° Diagonal Wide Angle
Audio
Speaker, Microphone
Power
Rechargeable Lithium-ion Battery
Lighting
Illuminated Keypad
Operating Conditions
-4°F to 122°F (-20°C to 50°), IP55 Rated, Water Resistant
Dimensions
6.30in x 2.71in x 1.36in (159.9mm x 68.9mm x 34.5mm)
Warranty
What does the myQ Smart Garage® Video Keypad do?
The myQ Video Keypad lets you see and control who opens your garage door. Grant traceable access by assigning unique PIN codes for family, guests or service providers. Live stream HD video, receive real-time notifications and view history of when your garage has been accessed by your household.
Does the myQ Video Keypad store recorded event footage for later viewing?
Your purchase of the myQ Video Keypad will come with a free 30-day trial of our myQ Video Storage Plan, which includes access to the last 7-days of your motion event recordings. If you choose to continue with a subscription after your trial, you will maintain access to video recording history and other premium features.
Will my garage door opener work with the myQ Video Keypad?
The myQ Video Keypad is compatible with LiftMaster, Chamberlain, Craftsman, Raynor and AccessMaster garage door openers manufactured after 1993.
Can I use the myQ Video Keypad to open or close my garage door from the app?
Remote operation through the myQ app is only available if your keypad is paired to either a myQ-connected garage door opener or Smart Garage® Control Hub.
Does the myQ Video Keypad support in-garage delivery from Amazon or Walmart?
In-garage delivery from our retail partners (Amazon Key and Walmart+ InHome) is only available if your keypad is paired to either a myQ-connected garage door opener or Smart Garage® Control Hub. If connected to a supported opener or hub, the myQ Video Keypad can enhance your in-garage delivery experience by capturing who comes in and out of your garage.
Can the myQ Video Keypad control multiple garage door openers?
The myQ Video Keypad will control a single residential garage door opener.