Security Designed for You
Now your property can work more efficiently while increasing security with the Smart Video Intercom-S. Think of how much time you'll save by not handing out keys and fobs. Forget driving to the property at 2:00 a.m. to let in a locked-out resident. The Smart Video Intercom-S, powered by myQ, gives residents from Lincoln Park to Logan Square the ability to use their smartphones for ultra-secure keyless entry — a convenience they'll pay up to $30 a month more to get.
It Pays You Back Right Away!

Costs Avoided
Average cost to change a lock
= $200*


Monthly transportation cost
to address issues
= $100*

Cost of unrecorded damages
= $1,000+*

*Costs vary

Efficiencies Gained
Control resident access from the software platform instead of distributing and collecting keys

Manage your property remotely so you don't have to wake up at 2 a.m. to let in a locked-out resident

Decrease liabilities with video clips of who is entering the property

Profits Earned
Smart amenities can drive an extra $30 monthly per resident


You can write-off up to 80% of the cost of a video intercom in the year you buy it


A smart entry system can help you automate showings, minimizing time between tenants
Manage Your Property Like a Pro
Take charge of who can access your building—from anywhere. Grant entry even when you are offsite from the convenience of your myQ Community dashboard.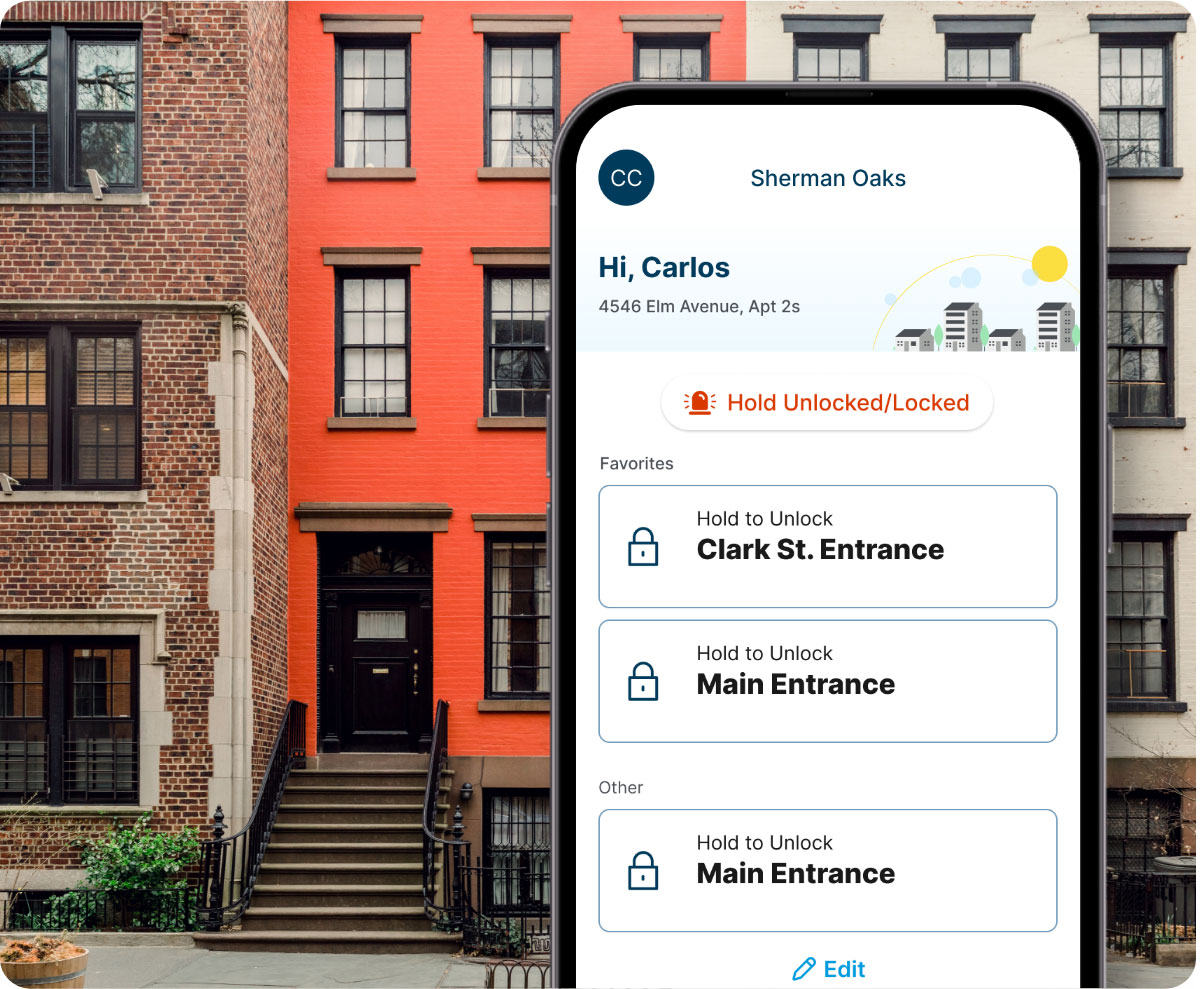 Big Things Come in Small Packages
Perfect for smaller buildings but packed with big time features that allow residents to use their myQ Community app to see and talk with their visitors before unlocking the entrance.
See Who's There,
Know What's Happening
With a 135° wide-angle camera, you'll see who wants to enter. Plus, you will receive access notifications and event recordings to help you keep tabs on who's coming and going.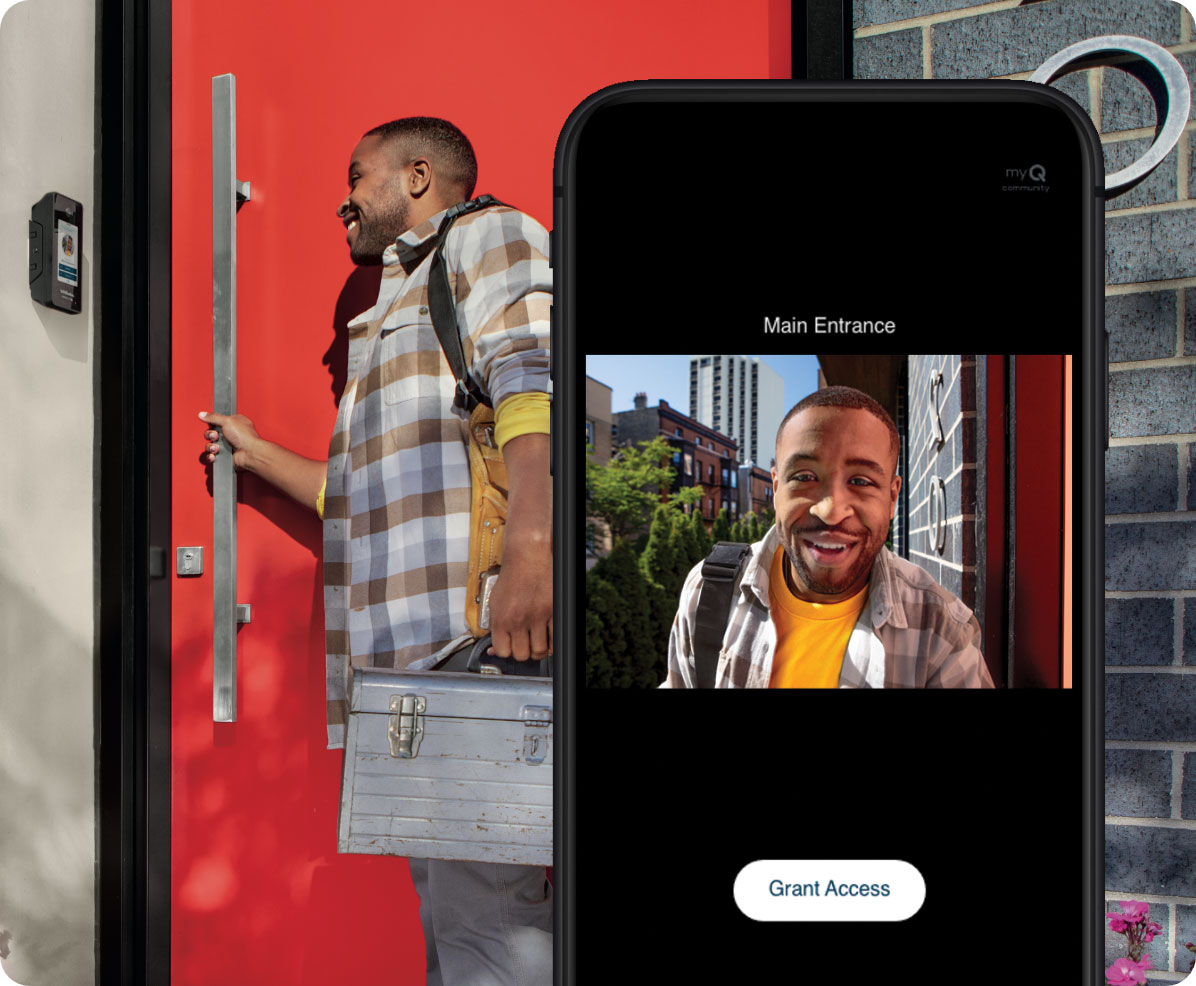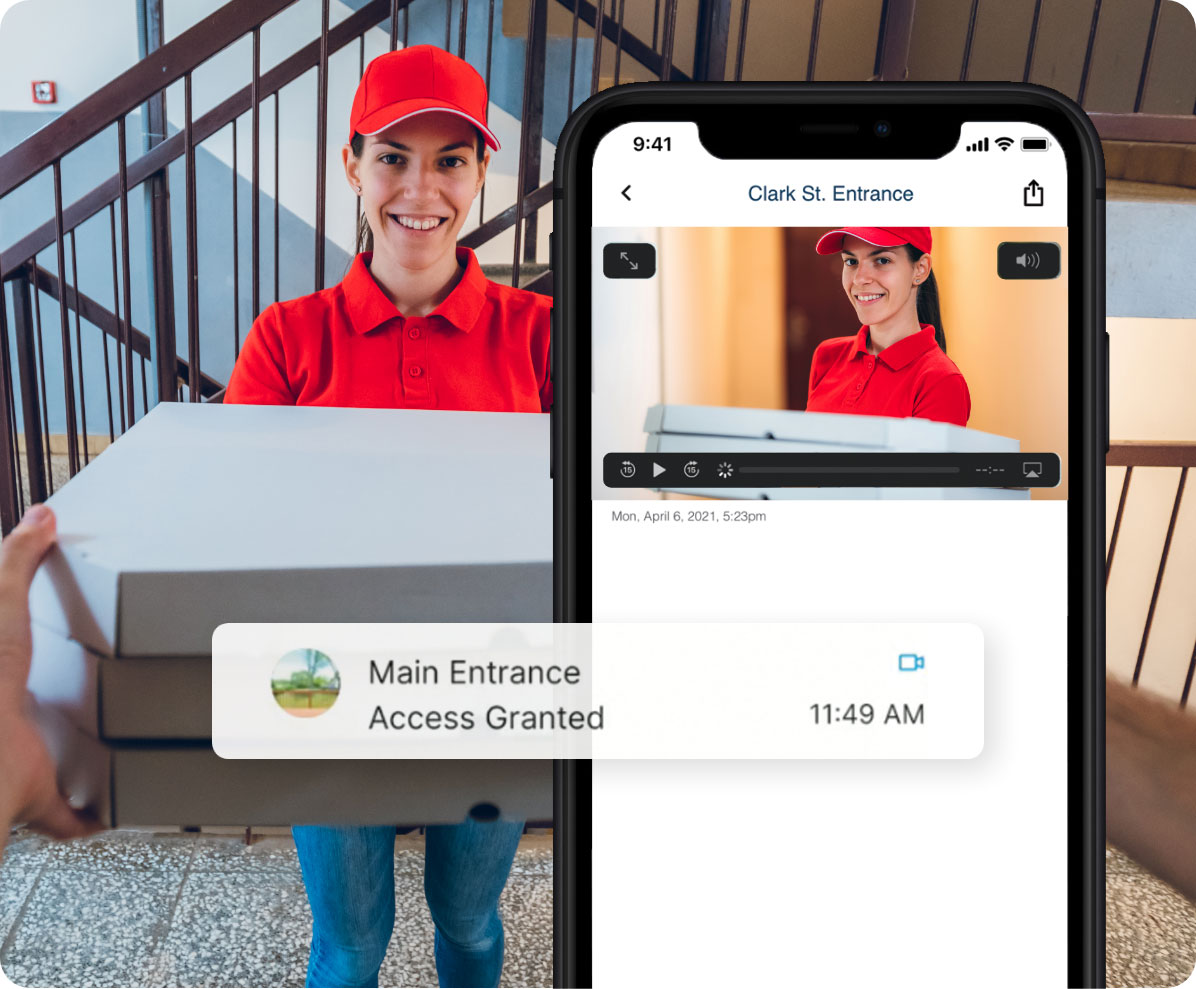 Got Deliveries? Of Course, You Do
The myQ Community app allows residents to remotely manage deliveries from pizza to Pad Thai. They can set up recurring passes for family, friends, and regularly-scheduled people like the cleaner or the dog walker.
If Your Chicago Property 
Looks Like This…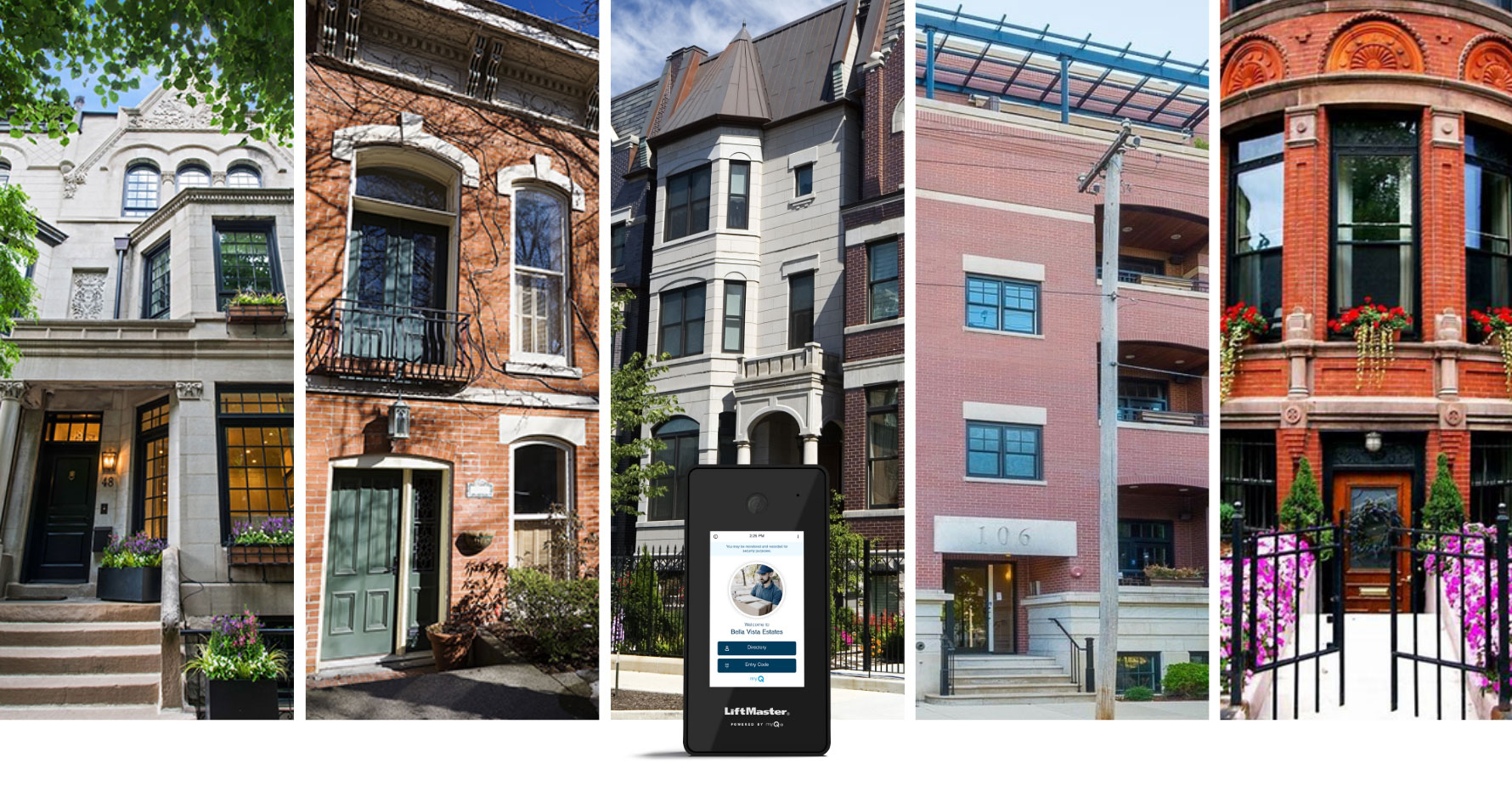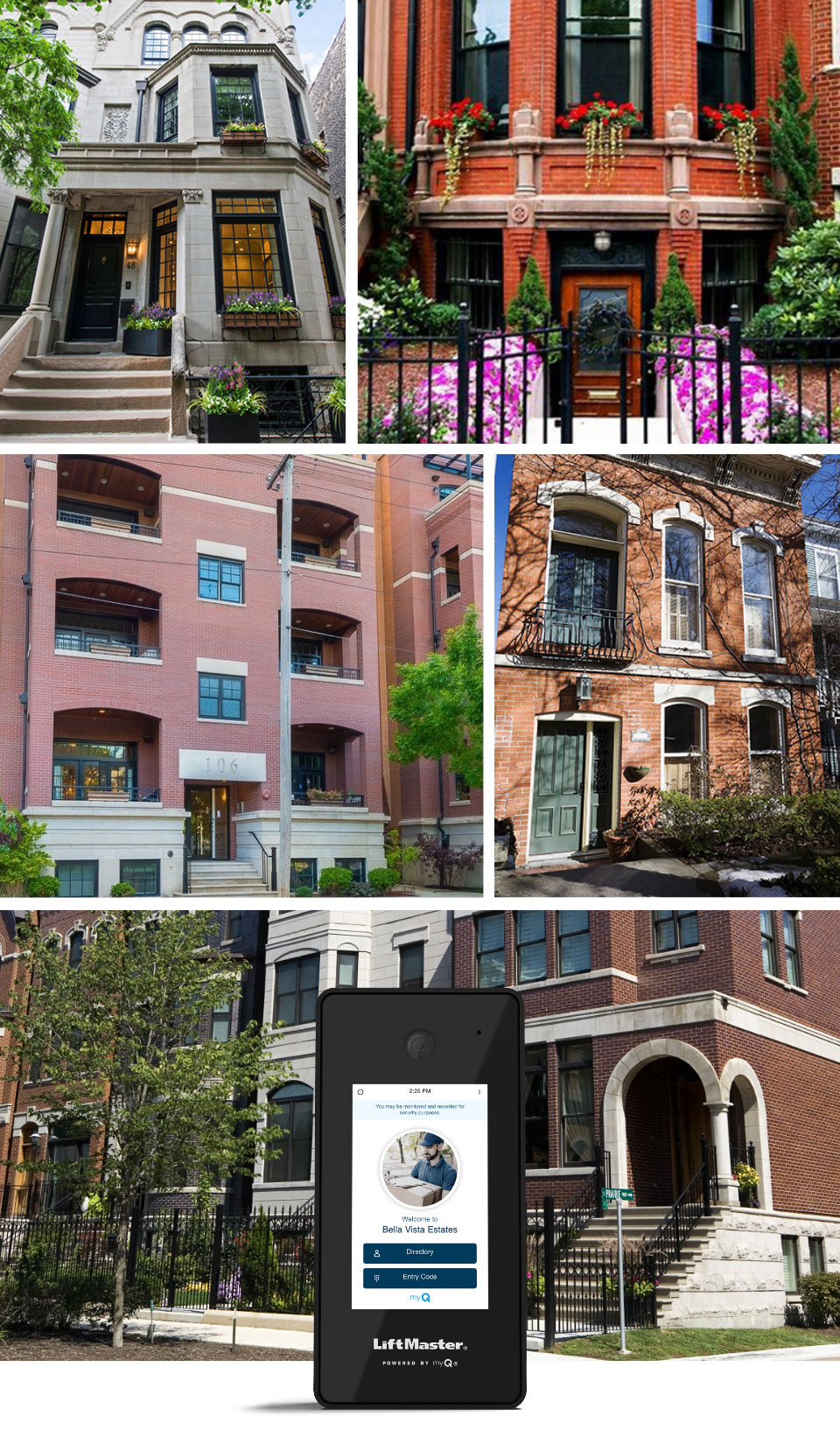 A Smart Intercom-S 
Will Help Keep It Secure
Helpful Resident Features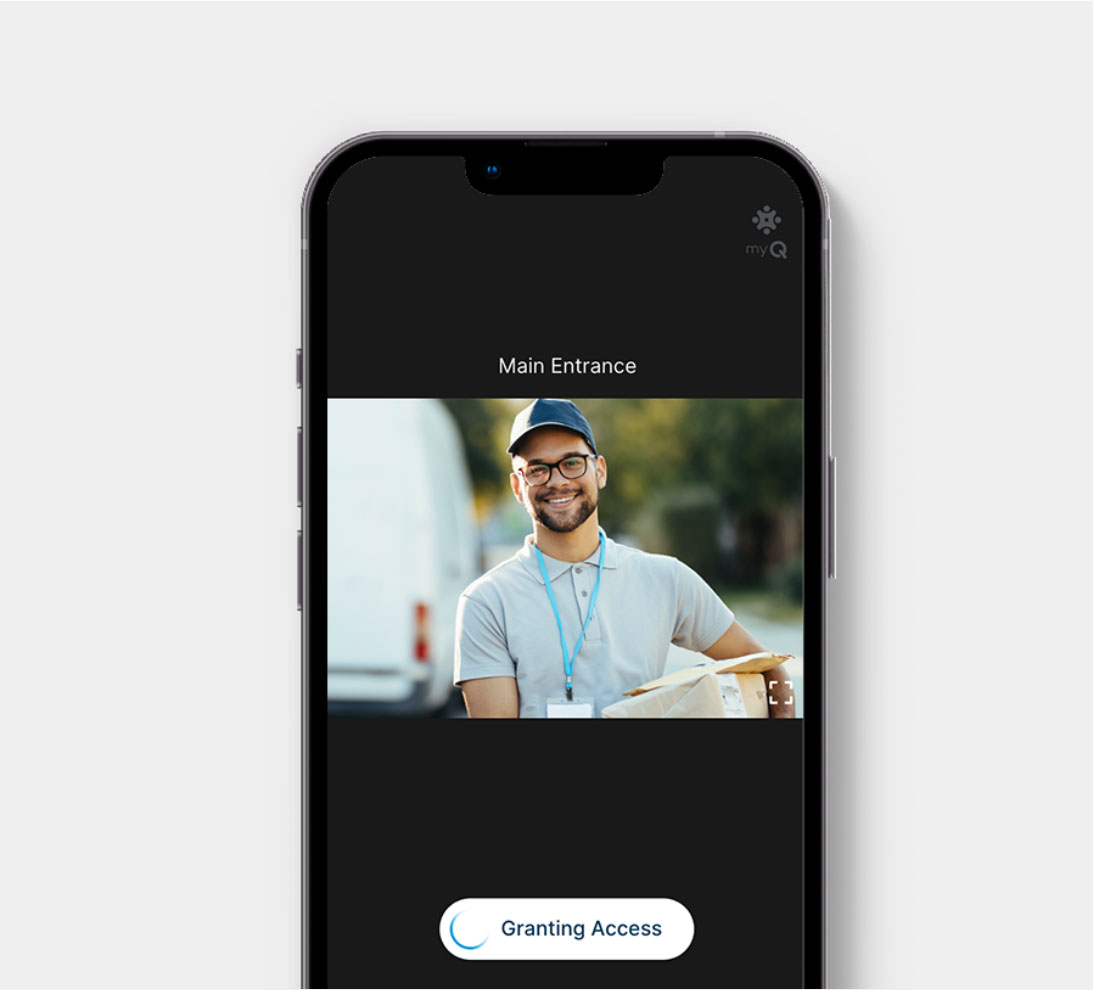 Video Calling
See who wants to come in before you say, well, come in. With the myQ Community app, residents can see the person outside via one-way video and talk with them via two-way audio.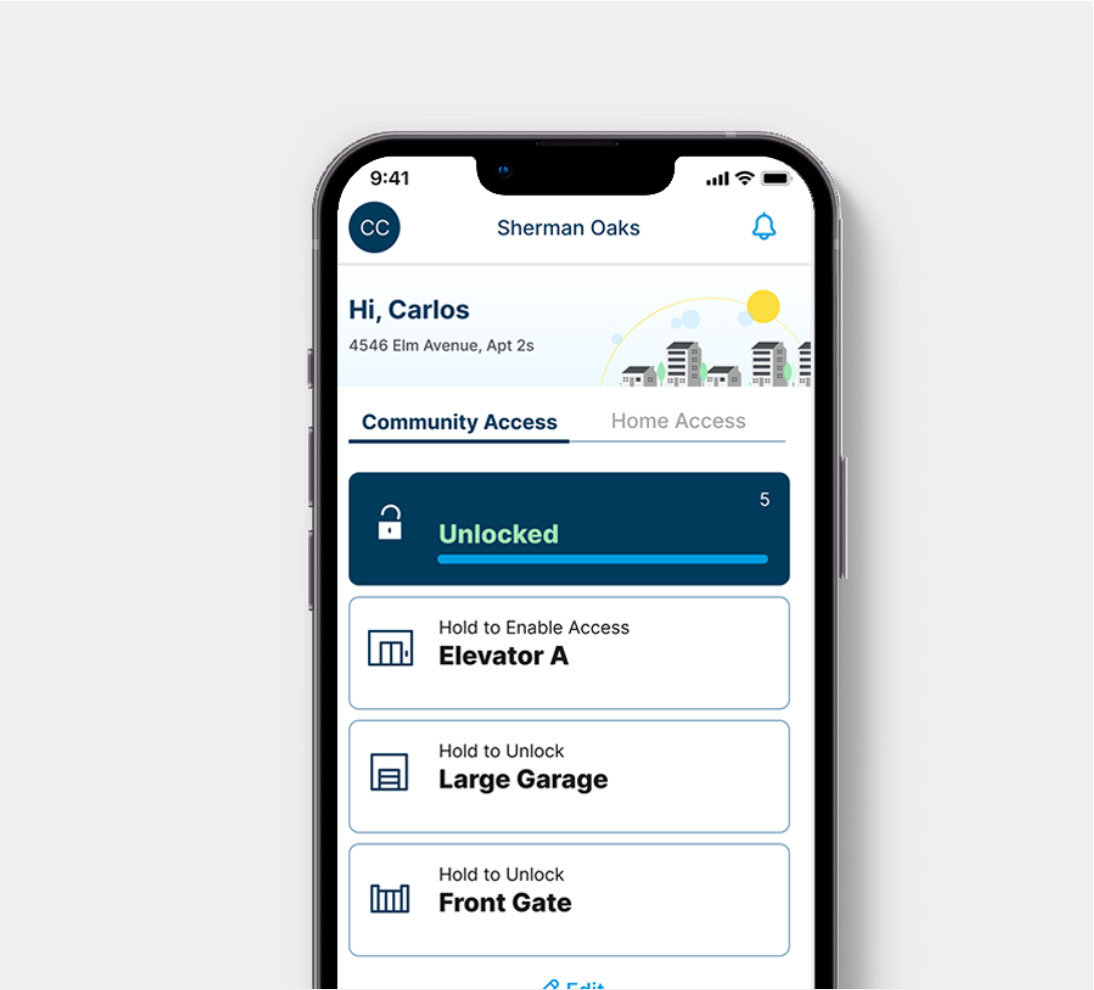 Press to Unlock
Simply press the icon on your smartphone screen to open the door remotely. This feature is perfect when you are juggling groceries or need to let a friend into the building.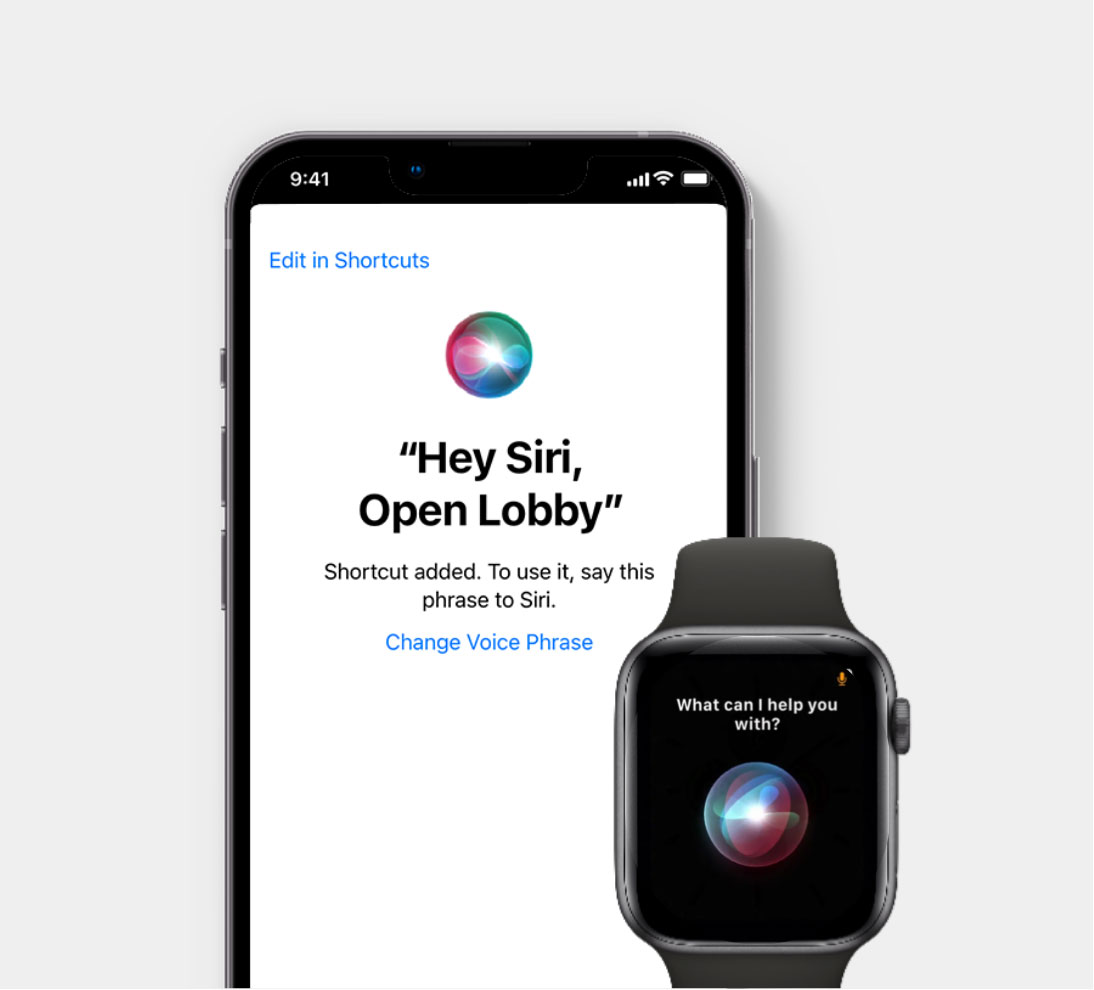 "Hey Siri"
Use the myQ Community app to ask Siri to open the door to your parking garage as you approach. Coming and going just got a lot simpler and safer.
---
Smart Management Features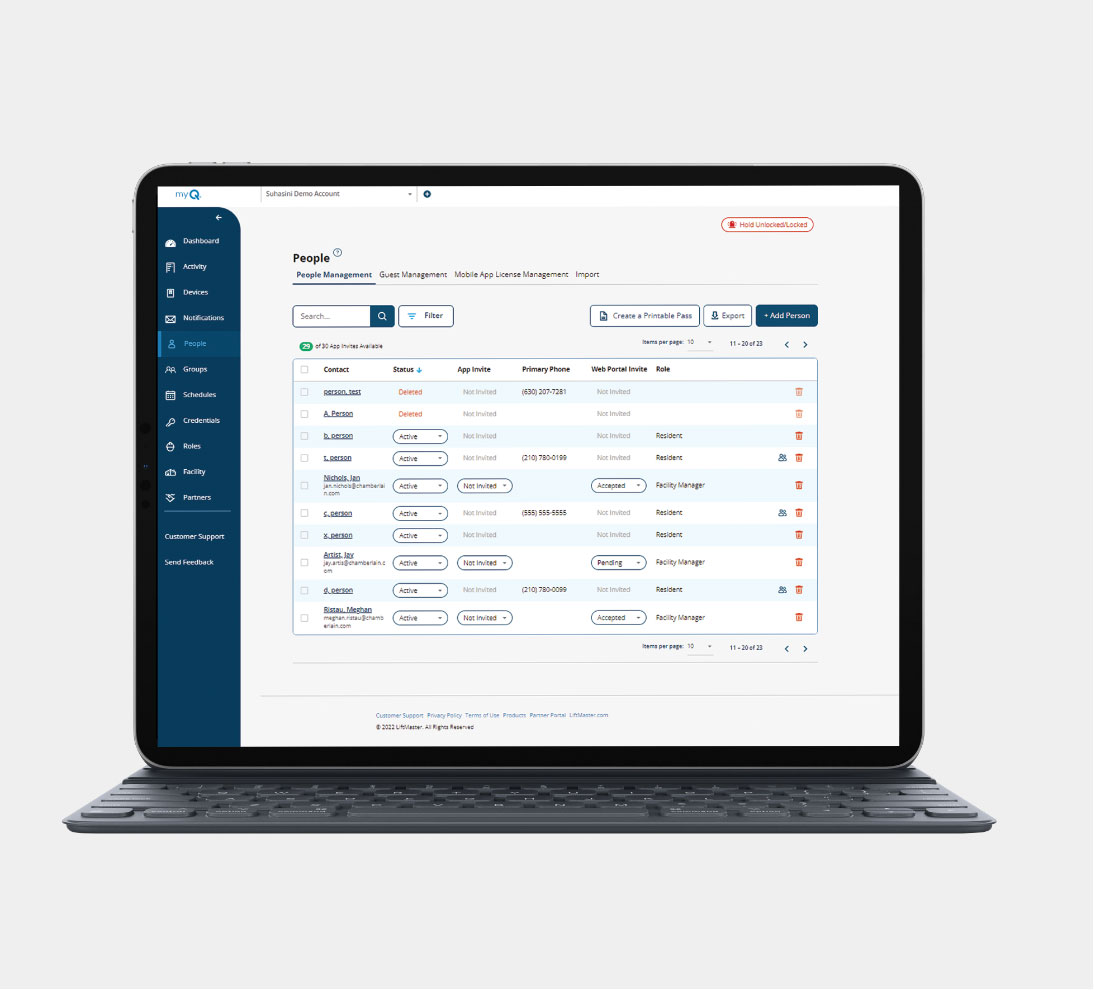 Control Resident Access
Moving in and out? Add and delete residents from your myQ Community platform so you never have to manage building keys.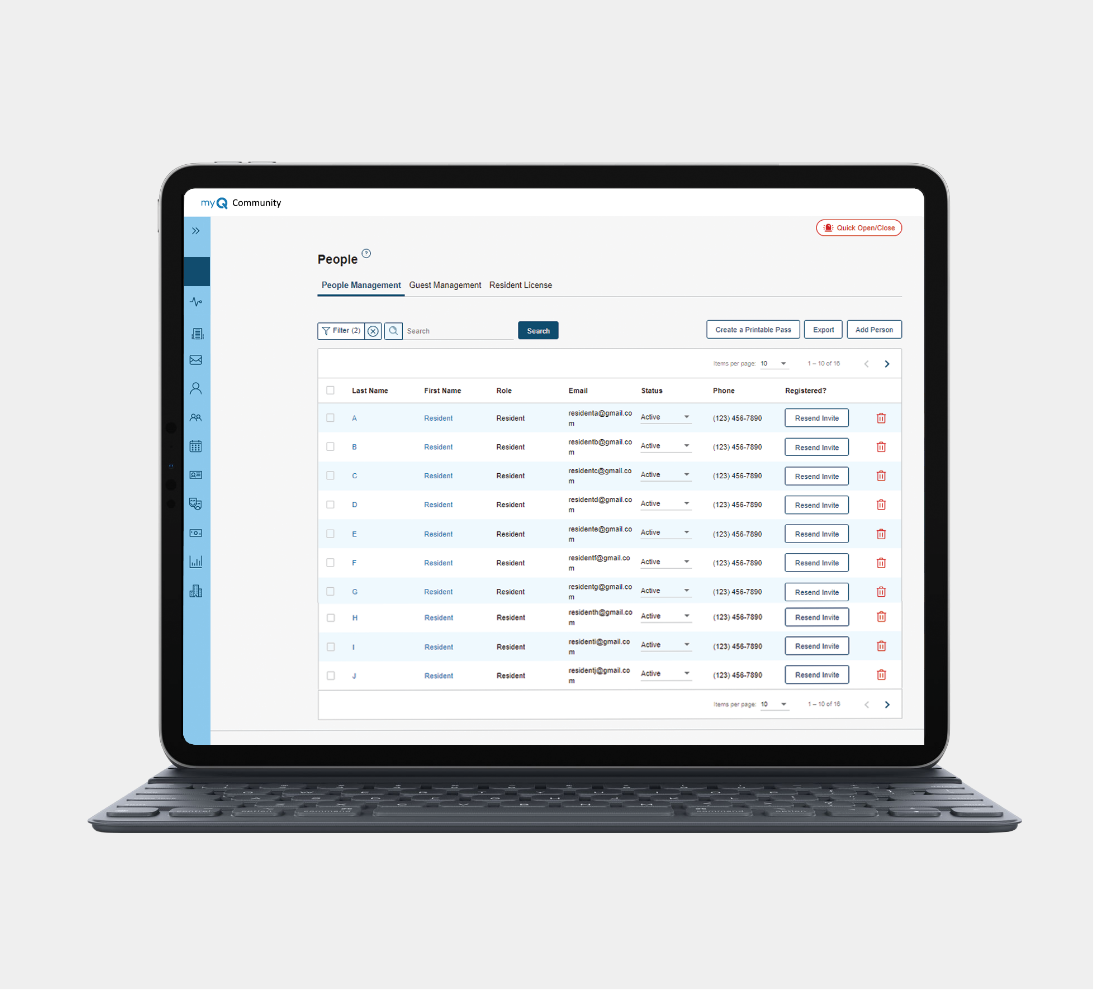 Custom Notifications
Customize myQ Community access event notifications, choosing what you want to see, whether it's door ajar, an expired access code, or something else.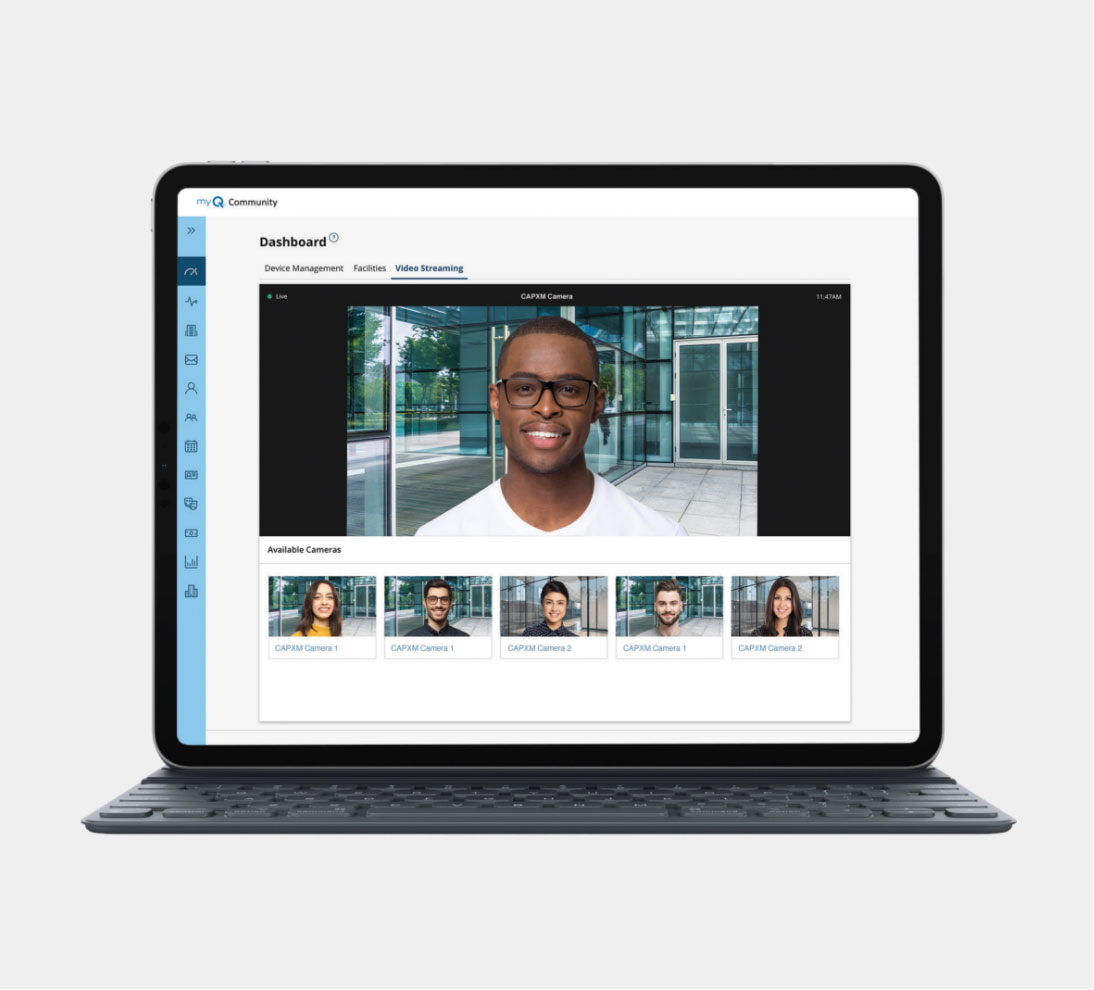 See Who Wants In
See what's happening outside your entrance no matter where you are. Keep your property safe and secure with myQ Community software.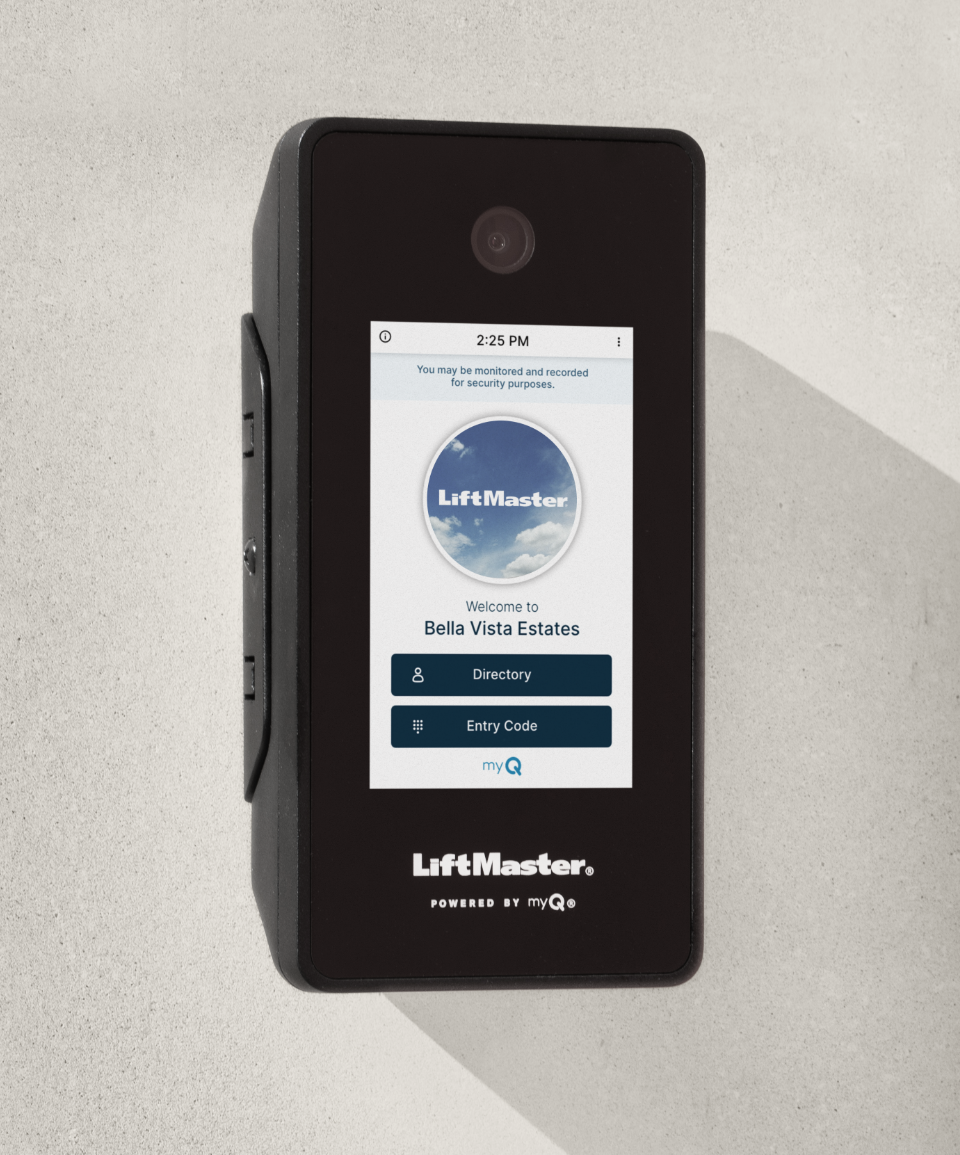 Integrated 135⁰ wide angle camera provides an expansive view with 1080p high-definition resolution
---

Durable, scratch resistant 5-inch color touchscreen with picture-in-picture
---

Built-in speakers provide digital call quality so you can clearly hear who is outside
---
Frequently Asked Questions:
What is smart access control?

Smart access control is, well, smart. Another way of saying that it's connected to the internet. So smart access control technology is both cloud software and hardware. Here's what you need to know about cloud software. First, the software is delivered as a service. If you use Netflix or Amazon Prime, you are subscribing to software as a service. You pay a monthly fee to use it. Think of Software as a Service (SaaS) as renting the software instead of owning it.
The benefit of SaaS is that you don't have to set up the platform the software runs on. This means that you don't carry fixed overhead costs like salaries for IT professionals to run and continually enhance the platform. And you don't have to invest in security protocols to protect sensitive information and resist phishing and cyberattacks.
The other part of smart access control technology is the hardware. There are different hardware components to choose from. This is because every property has its unique set of needs. So, you can choose exactly what you need to keep your property and residents safe and nothing more.
Think of the video intercom as the base station at the entrance of the building. It can be affixed to the exterior of the building or mounted on a pedestal. The video intercom system has a speaker, microphone, and camera. Visitors use the directory touchscreen to find a tenant and enter the unit number. The resident can see who wants in and speak with the guest. If you use a video intercom with a door lock release, residents can grant access without coming downstairs — or getting off the couch.
How does smart access control technology make my job easier?

Automation, convenience, security, and safety are four great reasons why managers should be excited about a wireless video intercom with door lock release. But managers can also:
Add, update, and revoke residents' access privileges
Assign groups, schedules, and zones to provide role-based access
Provide access remotely with the click of a button
Integrate with your existing property management system
Monitor security for one or many properties 24/7 from anywhere with your laptop or smartphone tablet
Use the video logs to check access point activity
Get real-time customized notifications, such as: door ajar or permission denied
Is wireless access control more expensive than wired solutions?

No. Wireless access control systems are less expensive than hardwired alternatives, particularly when the cost of conduit and copper wiring are factored in. Telecom companies are phasing out those 146-year-old copper landlines. The cost per line can be as high as $150.00 per line per month. And if copper lines need repair, the telecom company has the right to decline service unless the replacement is a 4/5G network or fiber optic cable.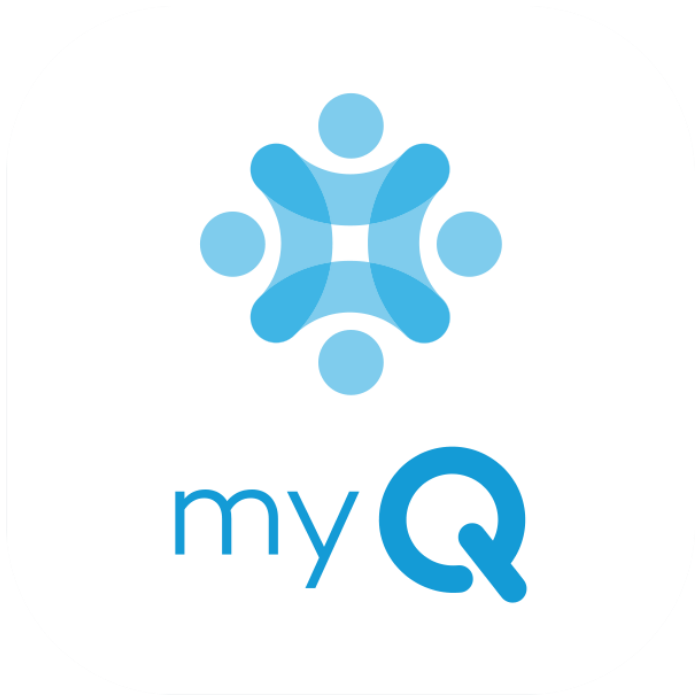 The myQ Community App
Makes Life Easier
Stop assigning keys or fobs. With the myQ Community app residents can use their smartphone as an ultra-secure buidling key. Plus, residents can see guests outside before letting them enter the building. The myQ Community app makes your property more secure and offers your residents a modern amenity they desire.