Refer a friend to download the myQ App and connect a device and get $5 when they do!
Learn More
close
Garage control from your Tesla touchscreen
Select Tesla Model 3 and Model Y drivers can open, close and monitor their garage door safely from their touchscreen. This simple in-dash update allows drivers to take myQ Connected Garage for a 30-day complimentary trial. No credit card required.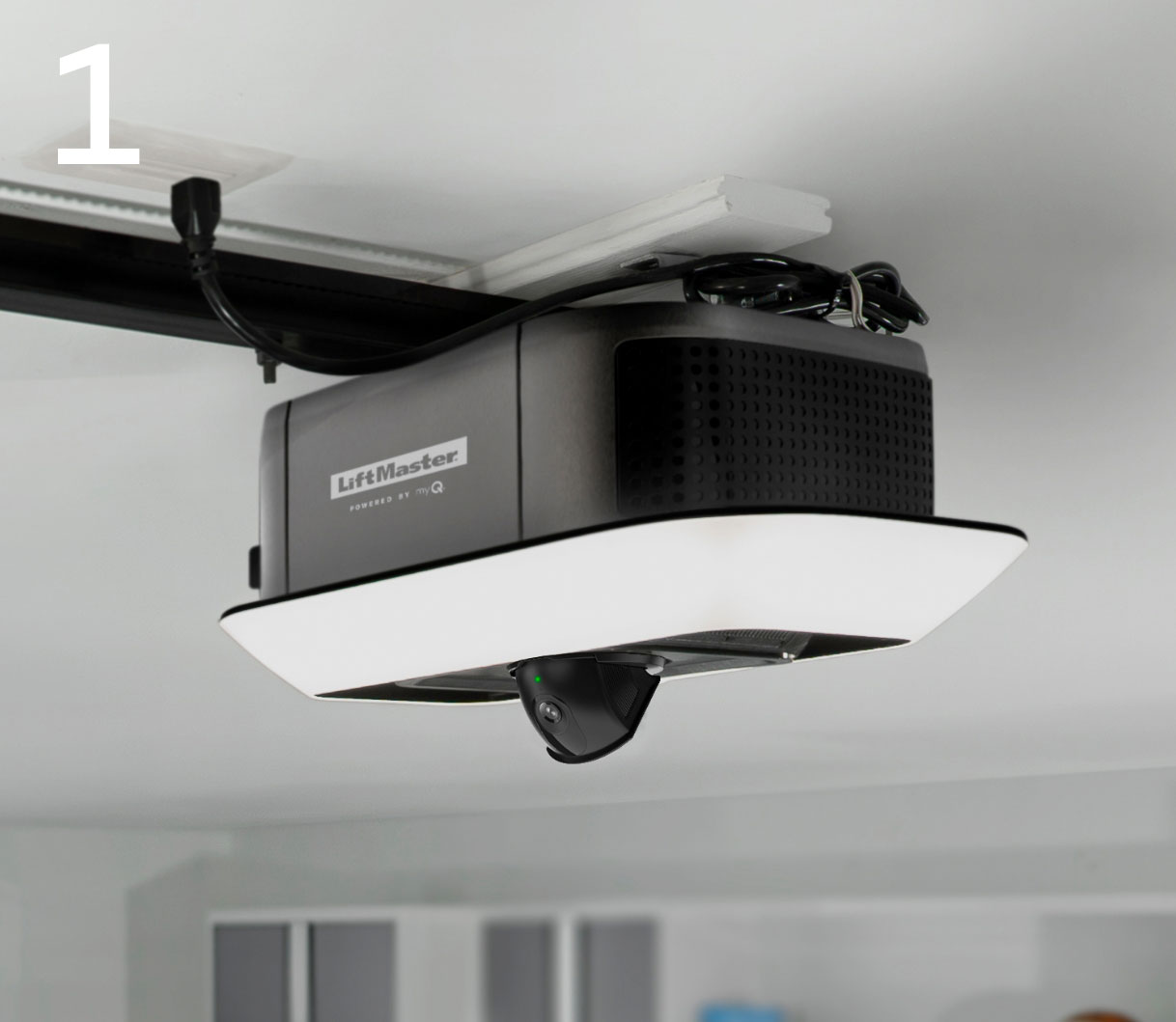 myQ Compatibility
Use the myQ Compatibility Tool to determine if your garage door opener is compatible. If you already have a myQ account, your myQ garage door openers will automatically sync to your vehicle when you sign up.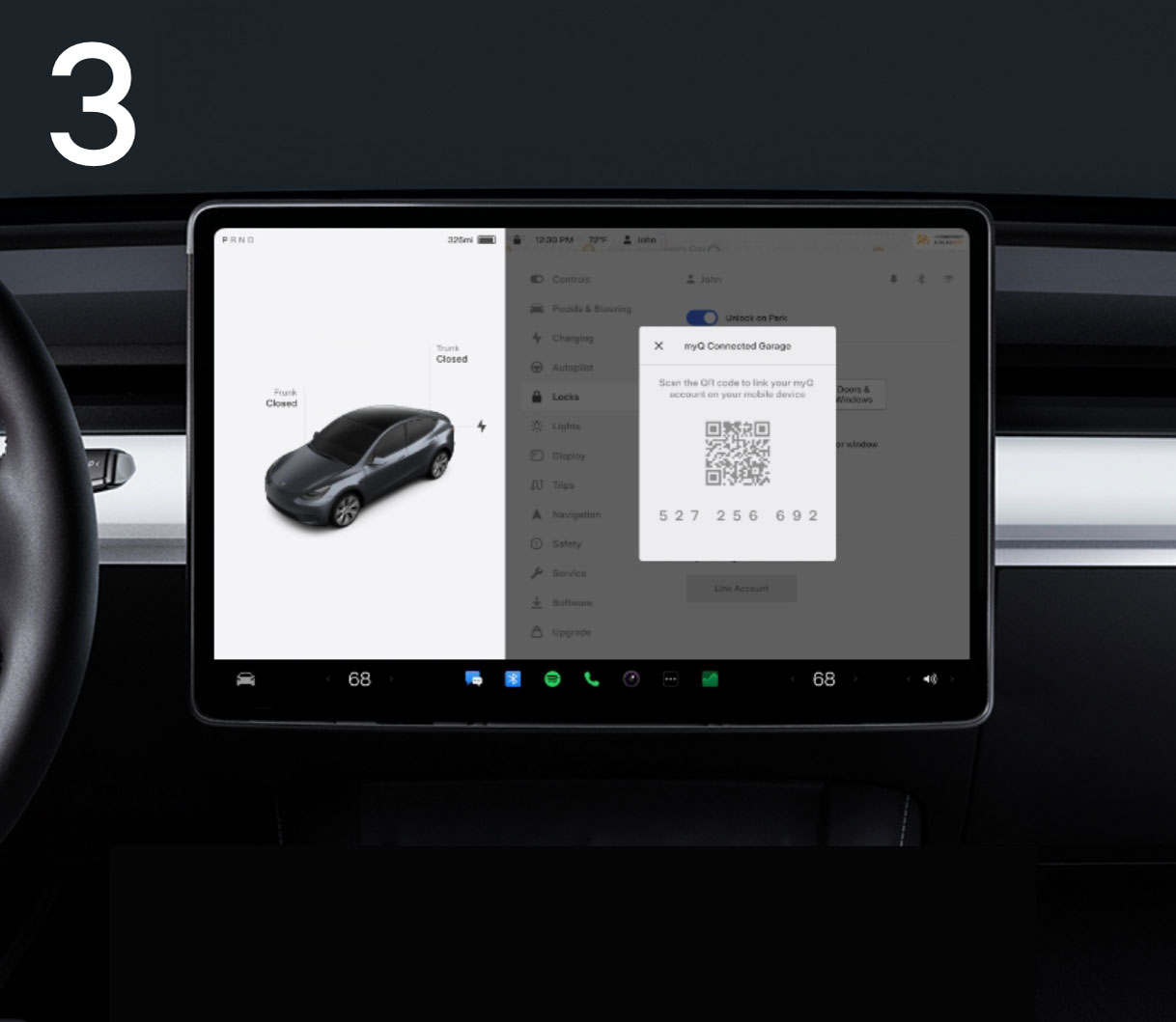 Go to your in-dash touchscreen
Make sure you have the latest software version installed. Find myQ in Vehicle Settings Locks. Click Link myQ Account and follow the step-by-step instructions to complete setup.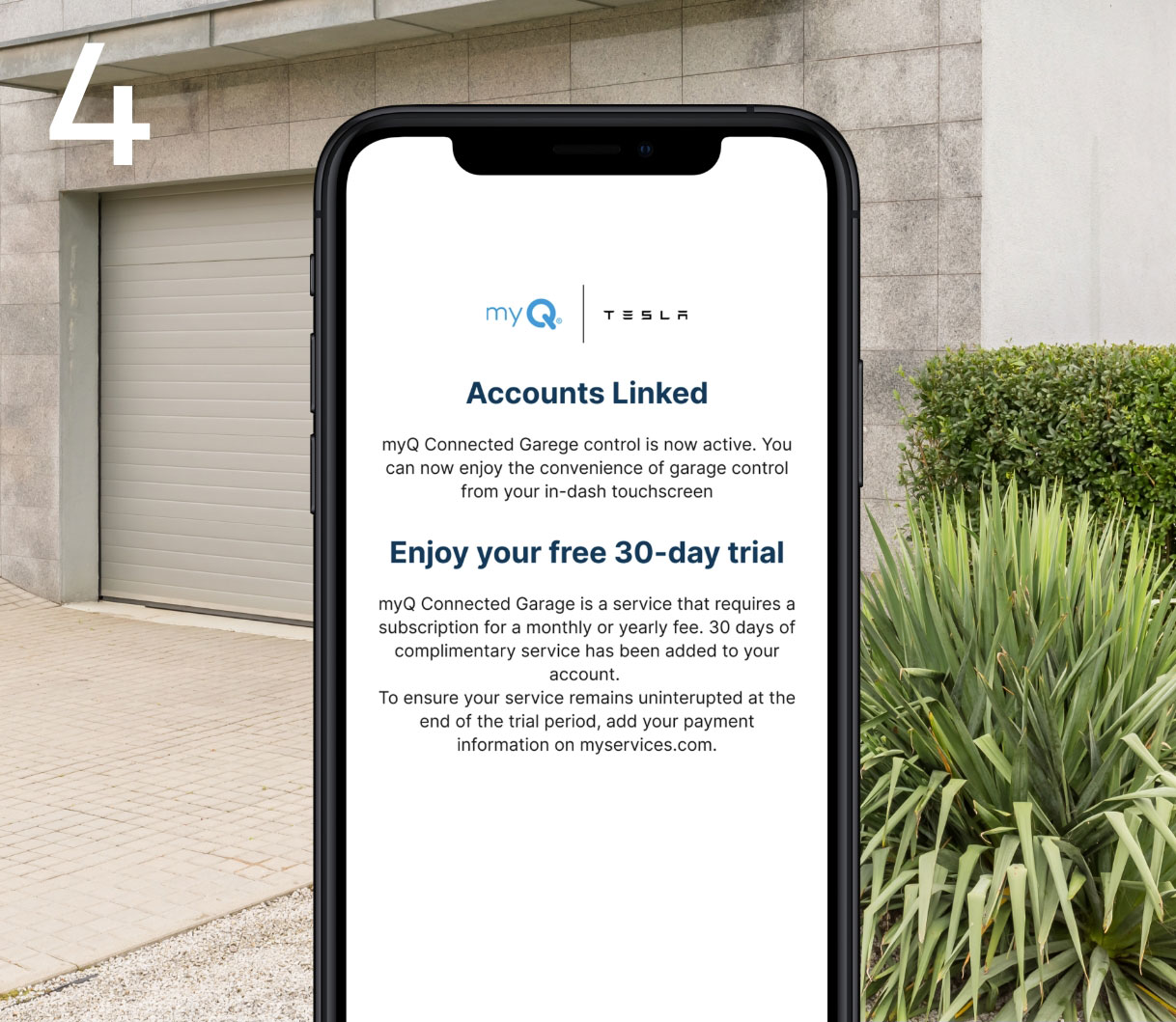 Activate your free trial!
Check your phone and follow the step-by-steps instructions to activate your myQ Connected Garage subscription. Enjoy a 30-day complimentary trial.

Subscription Details
This is how a Tesla is meant to control the garage door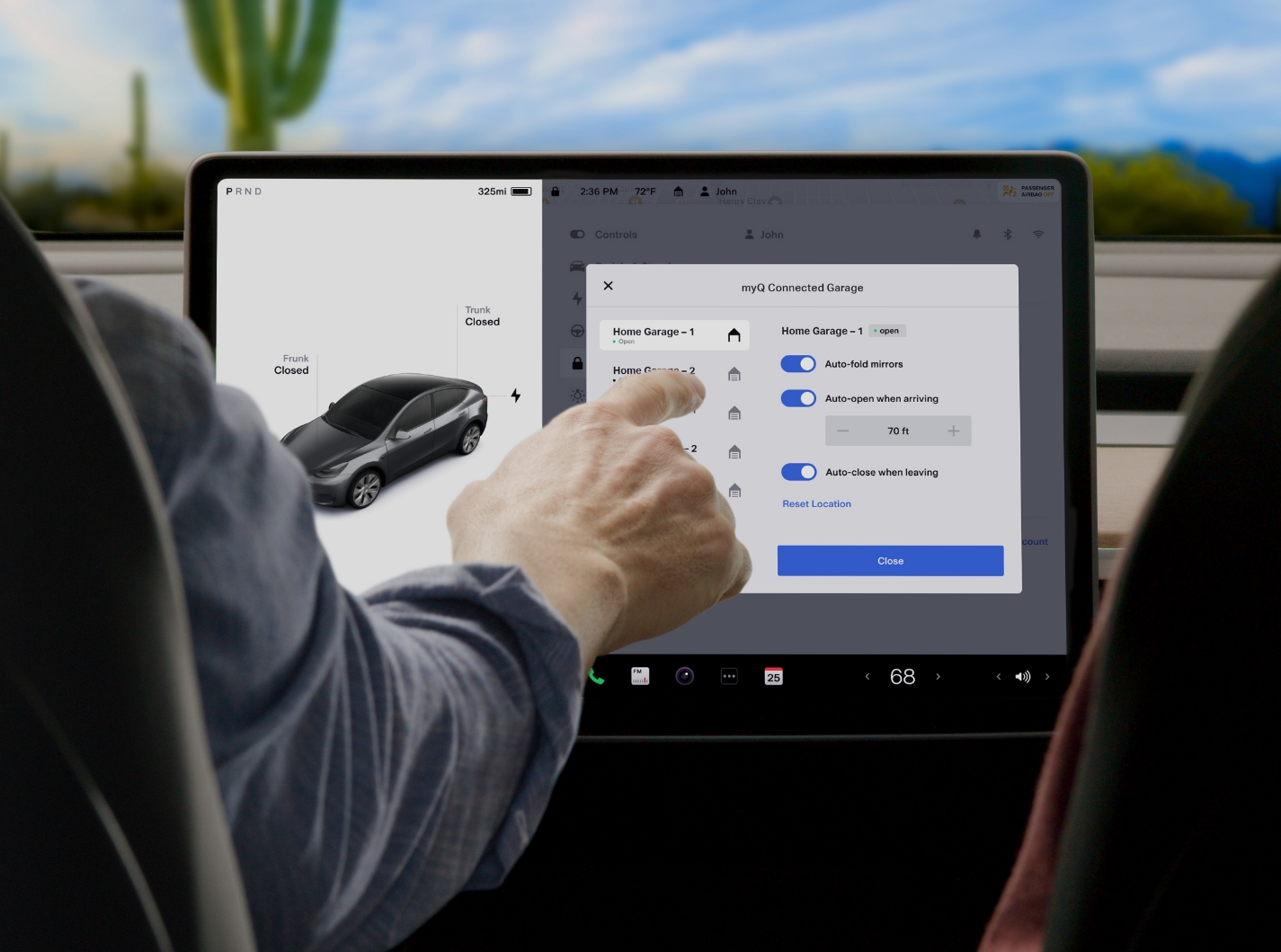 Control within reach
Never wonder if you left your garage door open again. Open, close and monitor your garage door—safely from your touchscreen.
Seamless vehicle-to-home connectivity
One subscription allows you to link your compatible Tesla vehicles to garage doors at multiple locations. Plus, your subscription goes with you—even if you get a new Tesla.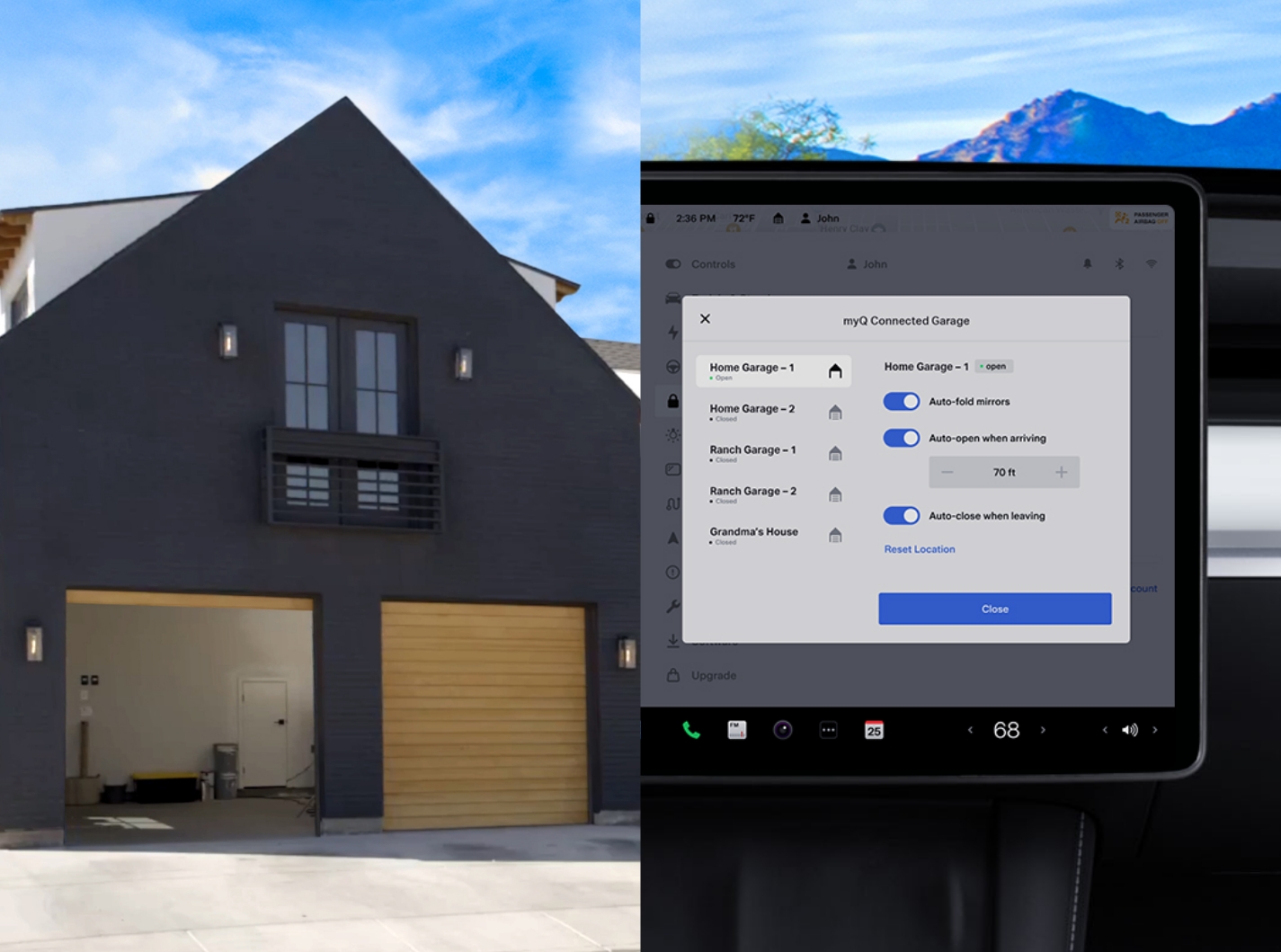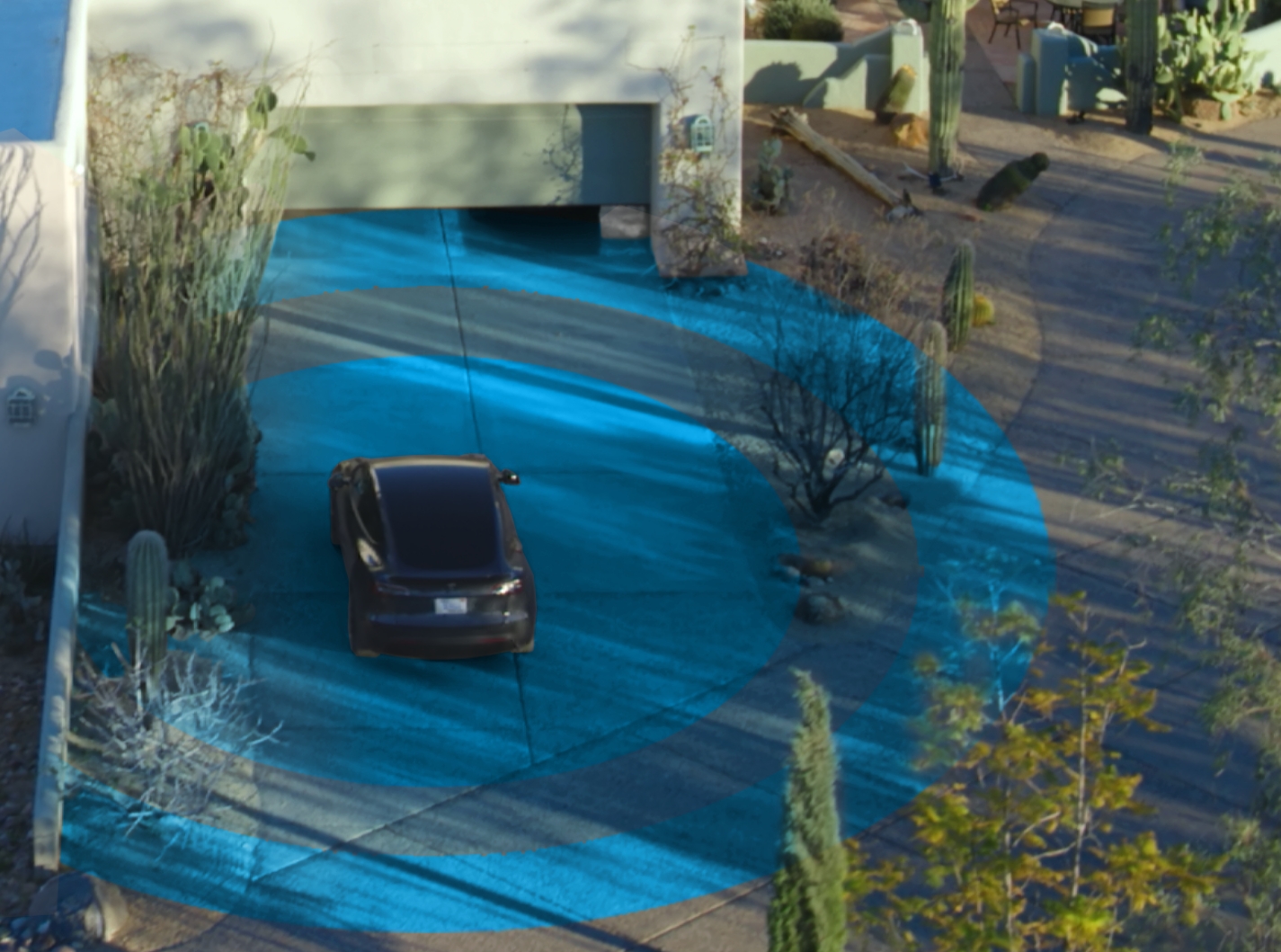 Touchless open and close
Geofence auto open and auto close allows your Tesla to control access to your garage—hands free.
Frequently Asked Questions
How do I link my Tesla to myQ Connected Garage?

On your Tesla touchscreen, complete the following:
Tap the Car Icon
Tap Locks
Under myQ Connected Garage, tap Link Account

At this point, both a QR Code and 9-digit number will be displayed on the Tesla Screen

Using your mobile device, scan the QR code

You will be taken to myQ + Tesla landing page

If you already have a myQ Account, tap Sign In
If you do NOT have a myQ Account, tap Learn More
Note: The following steps will be completed on the mobile device being used for setup.
Sign in using your login credentials

Utilize your myQ email address and password
If applicable, utilize the Amazon, Apple or Google Single Sign On method

Enter the 9-digit number displayed on the Tesla Screen and tap Submit
Review the Authorization Required screen and tap Authorize

At this point, your Tesla is now linked with myQ Connected Garage
Proceed to set up your 30-day trial

Review 230-day trial details and tap Next
Review Terms and Conditions and tap Activate

You will receive the "myQ for your Tesla is activated" notification

Tap Finish
Which Tesla Models are compatible with myQ Connected Garage?

Select Tesla Model Y and Model 3 vehicles that do not have HomeLink are compatible with myQ Connected Garage.
Do I have to enter my credit card information for a free trial?

In order to start your free 30-day trial, no credit card is needed. After the free 30-day trial, if you want to continue your myQ Connected Garage premium service, you will need to provide a credit card to pay for the subscription. If you choose to enter your credit card during the free 30-day trial, your subscription will auto start and your credit card will be charged.