myQ products, services and partnerships not available in all countries and international regions.
Secure your Amazon Prime Deliveries with In-Garage Delivery†
Get Amazon packages delivered securely inside your garage with myQ smart garage technology and Amazon Key. It's FREE for Amazon Prime members. Not home? No problem. Get Amazon deliveries while you're away, and rest easy knowing they are safe inside your garage until you're free to get them.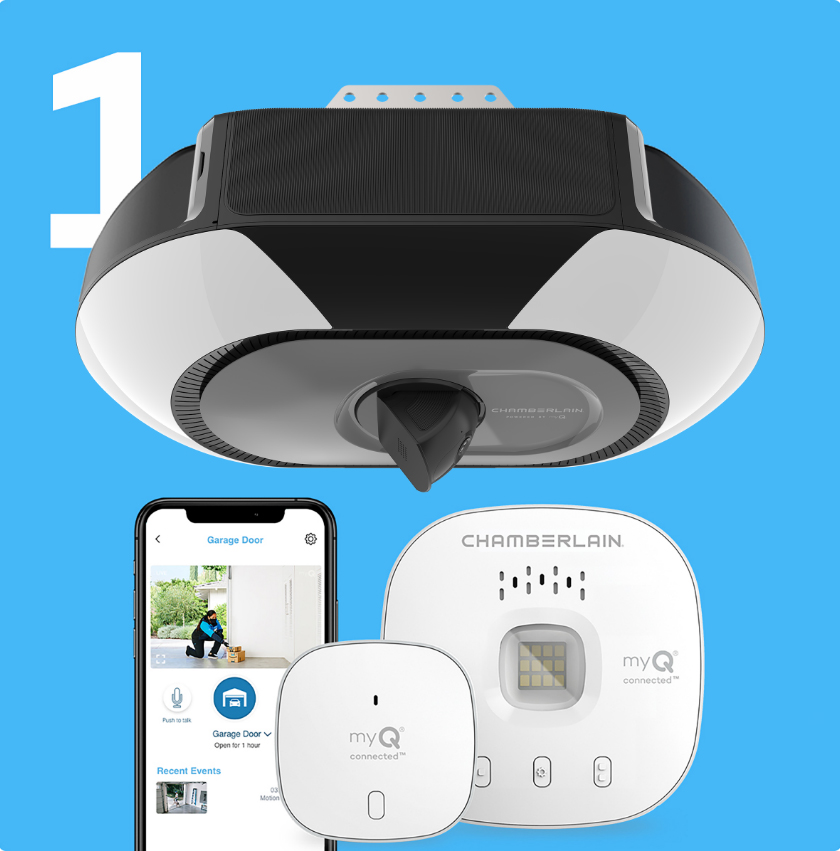 GET MYQ CONNECTED
Get started with myQ garage technology.
LINK YOUR ACCOUNTS
Link your account to Amazon Key in the myQ app.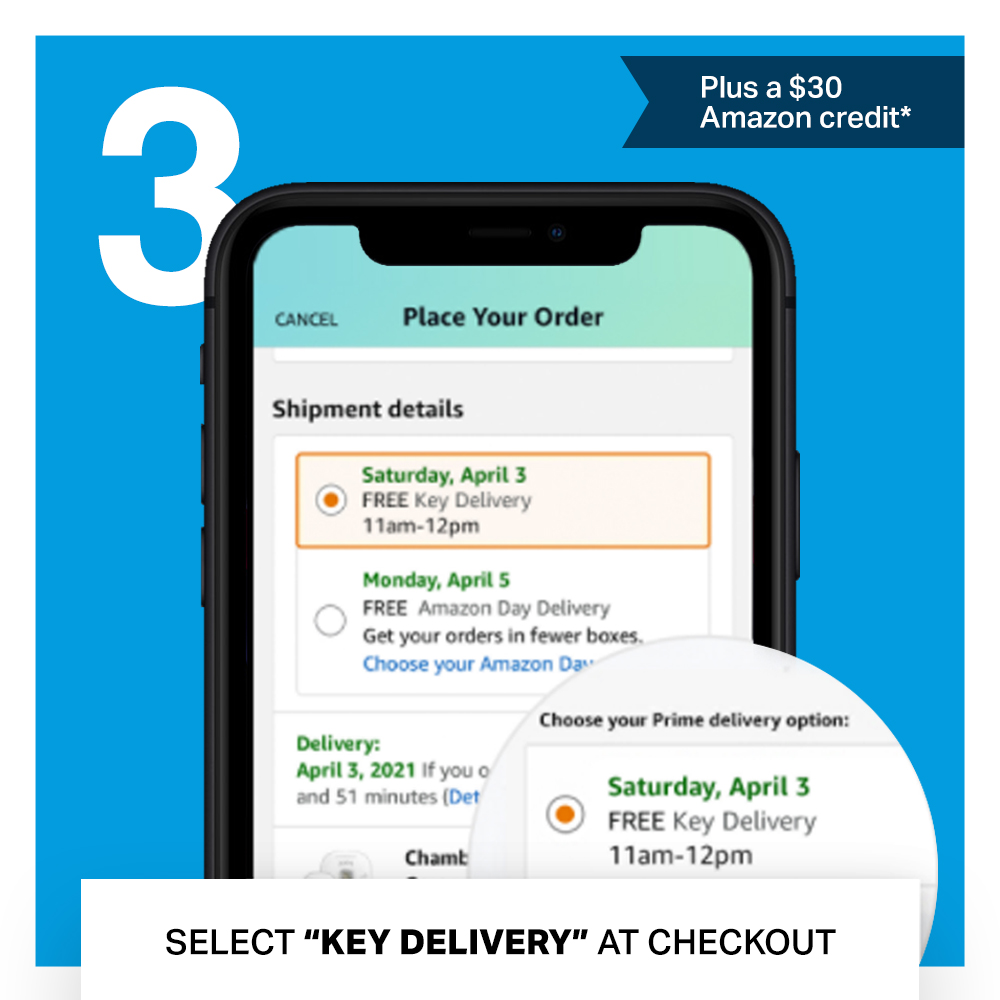 SELECT KEY AT CHECKOUT
Try In-Garage Delivery. Select Key Delivery at checkout and enter KEY30 for a $30 Amazon credit*.
 
In-Garage-Delivery FAQs
What is Amazon Key In-Garage Delivery?

Amazon Key In-Garage Delivery is a secure, convenient way to receive Amazon Prime packages inside your garage. It helps prevent package theft and provides protection from potentially damaging weather like heat and rain. It's also contactless, because there's no interaction between you and the delivery associate, or contact between the associate and the garage door.
In-Garage Delivery requires a compatible Smart Garage Hub or Wi-fi Garage Door Opener to enable authorized Amazon delivery associates to leave Amazon packages inside your garage.
How does Key for Garage work?

If you have a myQ connected garage door opener at home, your access can be enabled as simply as connecting your Amazon and myQ accounts in the Key app. If you need to install an In-Garage Kit, it can take one of three forms depending on your needs:
A myQ Smart Garage Hub that enables your existing garage door opener to connect to the cloud,
A new myQ connected garage door opener from either Chamberlain of LiftMaster, and
Either of those with an Amazon Cloud Cam to add video monitoring to your Kit.
Once installed, download the Key app and follow the simple steps to sync to your myQ. Then use the Key app to check the status of your garage door and open/close it no matter where you are. If you choose to add a Cloud Cam, you will also be able to view your cameras live feed and motion clips in the Key app.
How does In-Garage Delivery work?

After installing the Key for Garage Kit, eligible Prime members will be able to choose "in-garage" shipping at checkout when shopping on Amazon.com.
On delivery day, you will receive a notification in the morning with a 4-hour delivery window for when the delivery driver will arrive at your home. Right before the driver arrives at your home, you will receive an "Arriving Now" notification. You can choose to watch the delivery happening live if you have opted to install an Amazon Cloud Cam as part of your In-Garage Kit. The driver will request to open your door via their Amazon handheld delivery device. Amazon verifies that the package(s) belong to the address and the driver is near the correct door, turns on Cloud Cam if you have one, and opens the garage door. No special codes or keys are given to the driver. The driver will then place the package(s) just inside the door and request that it be closed. The driver will not move on to his or her next delivery until the door is completely closed. Once the delivery is complete and the door is closed, and you will get a final notification that the delivery is complete (and can watch a video clip of the delivery if you have a Cloud Cam).
How do I know if I have a compatible garage door opener?

If I don't have a Chamberlain opener, do I have to buy a new one?

You can buy a myQ Smart Garage Hub which goes right next to your existing opener and allows you to connect to the Key app. The hub can be installed without any additional wiring and works with almost all existing garage door openers made after 1993. Use our myQ compatibility tool to find the best way to connect your garage door opener to myQ.
How much does In-Garage Delivery cost?

Once installed, there is no additional cost to choosing the "In-Garage delivery" option at checkout.
What if I change my mind about granting access before the package is delivered?

With Amazon Key, customers are always in control. They can cancel an upcoming In-Garage delivery by blocking access through the Amazon Key app on the day of delivery. When customers block access to In-Garage delivery, we will default back to standard delivery, i.e. leaving it on the front porch.
Are there special drivers for in-garage deliveries?

In-Garage deliveries are carried out by some of the same professional drivers who you know and trust to deliver your Amazon orders today. These individuals are thoroughly vetted, with comprehensive background checks and motor vehicle records reviews.
Where can I get more information or support for Amazon Key or Amazon Prime?

For more information regarding Key, or Amazon Prime deliveries please contact Amazon.com/help.
Connecting your garage with myQ® is easy.
---
Add live streaming video to any myQ connected garage door opener with Smart Garage Camera.
Shop now ➔
*Terms and Conditions for Amazon Key Promotion
The customer must place their Amazon order using the Amazon Key service before March 31st, 2022 at 11:59 pm PST to qualify for the promotional credit. To receive the $30 Amazon credit, you must (1) be a Prime member (2) set up an eligible Amazon Key service, and (3) place your first Amazon Key order on Amazon.com and (4) include the applicable promotional code when placing such first eligible purchase. The $30 Amazon credit will be applied toward your Key Delivery. Offer available only to Amazon Prime members that have enabled Amazon Key in select areas. You can check your eligibility here: https://www.amazon.com/key. Offer applies only to products sold by Amazon.com (search "Sold by Amazon.com"). Promotion not valid on Whole Foods or Amazon Fresh Orders. Products sold by third-party sellers or other Amazon entities do not qualify for this offer, even if they state "Shipped by Amazon.com" or "Prime Eligible". Offer does not apply to digital content. Offer valid while supplies last. Shipping and tax may apply to free and discounted promotional items. Offer limited to 1 per customer per Prime account. The maximum benefit you can receive from this offer is a $30 Amazon credit. This offer cannot be combined with other offers and cannot be applied to a previously completed Amazon Key Delivery. Amazon reserves the right to modify or cancel the offer at any time. Unless an Amazon Gift Card is the stated benefit of the promotion, promotional codes (including those that are placed directly into accounts) cannot be redeemed for Amazon Gift Cards. Except as required by law, Amazon credit cannot be transferred for value or redeemed for cash. This offer is non-transferable and cannot be resold. The Amazon credit will be applied proportionally between all the promotional items in your order. If the total amount of the order to which the Amazon credit applies is less than $30, the remaining amount of the Amazon credit will be applied to future purchases using Amazon Key Delivery until the Amazon credit is depleted. If you return any of the products related to this order, your refund will be equal to the amount you paid for the product, subject to applicable refund policies. If you violate any of these terms, the offer will be void. Offer valid only for customers invited by Amazon who have received this offer directly from Amazon or a partner via email or online advertisements. Promotional credit expires at 11:59 p.m. (PT) April 14th, 2022. Visit www.amazon.com/gc-legal for full terms and conditions.